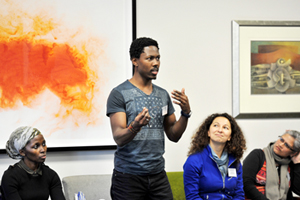 Networked: New Academic Practitioners Programme (NAPP) graduate Dr Buhle Zuma (psychology) likened the experience of being a new academic to an octopus grappling with invisible walls.
New maths lecturer Thomas van Heerden says he could have done with a handbook when he joined academia.
He's even suggested a title: Everything you always wanted to know about convening but were too afraid to ask.
As deputy vice-chancellor Professor Danie Visser pointed out on 3 October, every newbie needs resources and skills to deal with the "onerous experience" of being a new academic.
Visser was speaking at the 'graduation' of the latest cohort of 37 from the New Academic Practitioners Programme (NAPP), a function at which new 'NAPPers' like Van Heerden were introduced.
NAPP is year-long orientation programme run by the Centre for Higher Education Development and runs every semester in January and in June/July. Established in 2004, it's now in its ninth year and some 302 academic staff have graduated in this time.
Although the focus is on teaching, learning, and assessment, NAPP's strengths lie in its holistic programme of induction, said convenor Kasturi Behari-Leak.
By their very nature universities are not "personal spaces", said Van Heerden, who is part of a large lecturing team teaching maths to first-year engineering and commerce students.
"A lot of information isn't (effectively) communicated officially. The NAPP programme does an excellent job of introducing new staff members to useful people in the university - people who know things - and also to the other new staff members.
"It's reassuring that the university acknowledges that it can be a difficult place to understand and makes an effort to welcome new academics."
New academic Dr Buhle Zuma (psychology) likens the experience of integrating research, teaching and networking to being an octopus - and the academic job to a room with invisible walls.
"Academic jobs have very loose job descriptions and often unclear deliverables'"these are the invisible walls of academic work. When I started my career I often found myself in my office with no clear plan of what to do for the day or week. It soon occurred to me that I'm on my own here and I have the responsibility to shape my days, weeks and months in service of the broadly defined academic objectives."
The NAPP programme has been constructed with all these things in mind '" and more.
"Two criticisms levelled at new lecturer induction programmes in general are that they are too generic and that they construct 'newness as deficit'," said Behari-Leak.
"NAPP responds very effectively to both these aspects by firstly locating the programme in the actual field of lecturers' experience and classroom practice. Lecturers identify a teaching project or challenge which they explore for the duration of NAPP; and which culminates in seminar-type presentations by each participant on the last day.
"This provides the NAPP group with snapshots of disciplinary contexts and complexities across UCT. The teaching project often takes the NAPP team into classrooms to observe teaching, enabling them to respond more sensitively to specific challenges."
Second, Behari-Leak believes in celebrating newness.
"Many new lecturers have so much to offer: they come with fresh ideas; creative energy, technological savvy, and a commitment to education. Increasingly, new lecturers from outside South Africa are being appointed, bringing a rich cultural and historical diversity.
"Our NAPP programme taps into this capital by providing a supportive and collaborative community for new lecturers to share their identities, histories, passion, and perspectives.
"In this way they contribute to shaping UCT culture."
Story by Helen Swingler. Image by Raymond Botha.
---
This work is licensed under a Creative Commons Attribution-NoDerivatives 4.0 International License.
Please view the republishing articles page for more information.
---