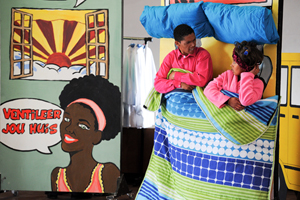 Steal the show: Performers from Worcester Senior Secondary School use drama to convey essential messages about TB and the upcoming trials.
Snow on the Hex River Mountains has turned the wind thin and cold, and there are few people on the streets of Worcester. There's the sense of a town in hibernation, chip packets and plastic bottles wheeling in gutters. But the doors of the Klein Teater are open, lights burning. And backstage, a cast of teens from Worcester Senior Secondary School is preparing for a special show, Karina se Keuse (Carina's Choice).
The Klein Teater is an unlikely place to learn about TB. But drama is playing a central role in educating the Worcester community ahead of a new TB vaccine trial targeting adolescents in this Boland town, where the incidence of TB is among the highest in the world. (See sidebar.)
In the third quarter of 2013 the play was staged 12 times at seven high schools in the Worcester region, creating awareness among 7 500 adolescents about TB (and HIV) - alerting them to symptoms, dispelling myths, and illustrating the importance of drug trials.
"These performances were thoroughly enjoyed by the large audiences, who recognised and connected with popular music - and local slang used," said physician and lead researcher on the drama project, Dr Michele Tameris.
The new trial will be launched in January 2014 by UCT's flagship South African Tuberculosis Vaccine Initiative (SATVI). SATVI is Africa's largest dedicated TB vaccine research group, and is based in UCT's Institute of Infectiuos Disease and Molecular Medicine. It will be based at SATVI's field site at the Brewelskloof Hospital and will rely heavily on buy-in from this tightly knit community.
Show and tell
A visiting UCT contingent, including Vice-Chancellor Dr Max Price and the Faculty of Health Sciences' new dean, Professor Wim de Villiers, joined the audience in the Klein Teater to share the experience with SATVI personnel - and witness how the region's teens are being sensitised to the new vaccine trial.
The play's refrain sets the scene and lingers long afterwards: "Wie het vir julle gesê om in TB se pad te lê?"
But Karina is no stranger to this community.
Karina se Keuse is an adaptation of a comic by the same name, developed of the then-SATVI- based Linda Rhoda in 2010 under the watchful eye of the Worcester Community Advisory Board and funded by a grant from the WHO Global Partnership to Stop TB. Its storyline closely reflects the community experience: a young mother chooses to enrol her baby in a SATVI TB vaccine trial, but encounters resistance from family and friends, based on hearsay.
Partnerships
Last year Tameris secured a Wellcome Trust International Engagement Grant to bring the play to life and to evaluate knowledge gleaned by the teens about TB, via surveys conducted by UCT social scientist Amber Abrams.
Drama has proved to be a highly efficient communication vehicle for vital health messages, says the UCT drama school's Dr Veronica Baxter, whose work in HIV/AIDS education in communities spans many years and who has delivered many successful grassroots interventions. Baxter and her senior students assisted Worcester Senior Secondary School's drama teacher Natasha Africa to mould and professionalise the production.
On many levels, SATVI's relationship with the Worcester community has been carefully built and maintained. "We've conducted several TB studies among adolescents in the Worcester region over the last decade and we work closely with community leaders, teachers, and the departments of education and health to engage with high school learners and their parents," said Associate Professor Mark Hatherill, SATVI deputy director (clinical trials and epidemiology).
"Community involvement is critical to the success of these studies. Already, more than 20 000 people have participated in studies at the Worcester field site."
Across disciplines
The intersection between humanities and health sciences is soon to be formalised at UCT, when the medical humanities master's degree is launched next year.
Based in the Department of Social Anthropology, the degree will be co-hosted by Dr Susan Levine (social anthropology) and Professor Steve Reid (primary healthcare).
Overview of new TB vaccine trial
Aimed at adolescents, the trial will rely on community buy-in to recruit almost 1 000 participants.
It is the first efficacy trial of a new TB vaccine to be conducted among adolescents since the current vaccine, Bacillus Calmette Guerin (BCG), which was first used in 1921.
It will focus on prevention of infection with Mycobacterium tuberculosis, the organism that causes TB, rather than protection against disease itself.
Adolescents in the Western Cape have very high rates of Mycobacterium tuberculosis infection, associated with increased risk of active TB disease in later years. An intervention aimed at adolescents will therefore help to control the epidemic.
The candidate vaccine will be compared to repeat vaccination with BCG, which is given routinely at birth, and to an inactive placebo.
Some 990 adolescents from high schools in the greater Worcester region will take part in the trial, for up to two years.
Story by Helen Swingler
---
This work is licensed under a Creative Commons Attribution-NoDerivatives 4.0 International License.
Please view the republishing articles page for more information.
---