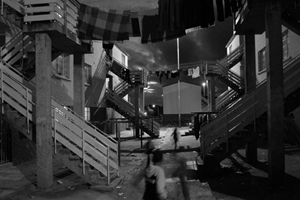 "I started documenting tik addicts - who are closely linked to gangs - after a family member got involved in the drug. I saw how it tore our family apart. Tik is the drug of choice in gangs."
"Gang members have been getting younger. Boys as young as 14 and 15 years are running around with guns. There is also marked tension between the younger members and the older ones, who want structure and discipline within the gangs. We need a long-term solution to gangsterism."
This is what Cyril Pelston, manager of SHAWCO's Manenberg centre, has told the Monday Monthly. He says that his community is exasperated with government's inadequate measures to combat this endemic problem, and that a long-term solution is needed.
"Our government must provide positive alternatives (to gangs) for the youth. Too many don't know what to do after school." Pelston states that the government's response is only effective in the short term, and that authorities need to address other factors, such as poverty and the breakdown of the family unit.
"These contribute to the hopelessness young people feel, and that is why the children end up joining gangs," he says. He believes that the solution lies in strategic partnerships that involve the government, NGOs and the private sector. "Organisations like SHAWCO represent one cog in the wheel. We cannot do it alone. We need funding from the private sector and support from government to come up with a workable solution," he says.
According to Pelston, things have been getting worse over the years. And SHAWCO offices themselves are sometimes victims of the violence, because of their location in high-risk areas.
"Voluntary organisations like SHAWCO have a history of being on the receiving end of gang activities," he says. However, this is not a new phenomenon. As far back as 1982, the SHAWCO clinic in Kensington is mentioned by a young gang member interviewed by Don Pinnock for his study on gangs. The gang member, identified as Fransie, tells the story of how he and a friend robbed the clinic. "We broke into SHAWCO at Kensington and broke open the safe. We got R3 500, but my buddy took it all for himself and gave it to his family. He was 13."
This year the organisation had to cancel one of its projects in Manenberg for a few days, because of a surge in gang violence which meant that a school normally used as a venue had to close its doors.
SHAWCO activities have since resumed.
Story by Abigail Calata. Photographer Brenton Geach.
---
This work is licensed under a Creative Commons Attribution-NoDerivatives 4.0 International License.
Please view the republishing articles page for more information.
---