Africa's lead in malaria fight internationally acknowledged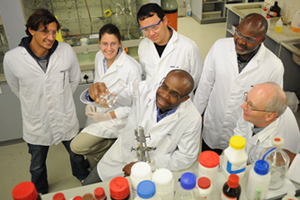 Medicine makers: Dr Kelly Chibale and his team (Dr Diego Gonzalez Cabrera, Dr Tanya Paquet, Dr Ze Han, Dr Aloysius Nchinda and Dr Leslie Street) share a moment in the laboratory where they are blazing the trail in the fight against malaria.
The UCT-led effort to find a single-dose cure for malaria has been named the 2012 Project of the Year by the Medicines for Malaria Venture (MMV).
Professor Kelly Chibale, founder and director of the H3-D drug discovery and development centre, and his team received this accolade at a Malaria Symposium held at UCT earlier this month.
"UCT launched H3-D to focus drug discovery research on the development of an African solution to this largely African problem. Working with MMV and partners from around the world, we have been able to develop MMV390048 into a clinical candidate in record time and provide excellent, world-class training for the next generation of African scientists," comments Chibale.
"We are very excited about the promise shown by MMV390048 against the blood stage of malaria," says Dr Timothy Wells, Chief Scientific Officer at the MMV. "The compound is showing more potency than chloroquine or even artemisinin. "The development of MMV390048 shows once again that African scientists are rising to the challenge and taking the lead in malaria drug research," he adds.
On African soil
A three-day meeting that brought together the most brilliant minds in the fight against malaria was held for the first time in Cape Town, confirming the African continent's increasing prominence in seeking solutions to its own medical problems.
The historic meeting of the expert scientific advisory committee (ESAC) of the MMV came a year after the committee selected the MMV390048 compound that Chibale and his team have been working on for further development. This compound, the first to be researched on African soil, has entered pre-clinical trials and will be ready for human testing in March 2014.
The clinical trials for MMV390048 are expected to take place at UCT's new clinical research facility at Groote Schuur, which will be operational within the next couple of weeks and which will officially be opened in October 2013.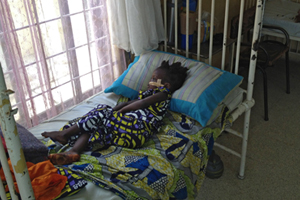 A young girl (age 3) languishes in a hospital in northern Nigeria. She is one of hundreds of thousands of children under the age of five struck down by malaria every year, and although she survived thanks to a medical intervention, many small children die from the disease.(Source:MMV)
Slaying the dragon
Every year, malaria kills between 600 000 and a million people. Of those affected, over 90% are from sub-Saharan Africa and 86% are below the age of five. The malaria parasite is beginning to display signs of drug resistance, and thus there is an urgent need to develop new drugs to treat the disease effectively.
Interestingly, South Africa records 7 000 cases of malaria per year, and 79% of those are imported. Malaria transmission occurs in three provinces: Limpopo, Mpumalanga and KwaZulu-Natal.
The MMV390048 compound was uncovered after 35 000 compounds were screened for selective killing of the malaria parasite; the first breakthrough came in 2010, when MMV017007 was found to be effective. The compound – which according to Chibale, like James Bond, had a "licence to kill" – would require too high a dosage in humans, and it wasn't metabolically stable. "Enter compound MMV390048, and the possibility of it having a licence to cure," says Chibale.
There are a number of compounds Chibale and his team can fall back on if MMV390048 does not clear every hurdle on the drug development road. Chibale lauds this journey of drug development as "a tremendous project in building capacity". Ten local scientists were trained during the development of the drug, and Chibale's team has grown from four in 2009 to 22 today.
INTERESTING MALARIA FACTS
The malaria parasite is transmitted to humans by the female Anopheles mosquito when she extracts a blood meal to feed her young.
The parasites are rapidly taken up into the cells of the liver, where they multiply and invade blood cells.
Current medicines kill malaria parasites at this blood stage. This is when the parasite is at its most abundant – up to 1012 parasites in one person – and the stage that leads to clinical symptoms of malaria.
Source: MMV
Treatment milestones:
1632: Introduction of quinine, which is extracted from a tree native to South America
1910: First case of resistance to quinine is recorded
1945: Chloroquinine, a compound synthesised by a German scientist, is used to treat malaria
1948: Proguanil emerged from the antimalarial pipeline
1949: Resistance to proguanil apparent
1957: Resistance to chloroquinine appears
1977: Mefloquinine, developed by the US Army, is used to treat malaria
1982: Mefloquinine resistance develops
1979: Human testing of artemisinin starts in China
2009: Resistance to artemisinin is reported
2012: The MMV selects MMV390048 for further development
Source: MMV
Story by Abigail Calata
---
This work is licensed under a Creative Commons Attribution-NoDerivatives 4.0 International License.
Please view the republishing articles page for more information.
---