How to complete your PhD and fall in love with Cape Town
Responding to the sightseeing aspirations of Pan-African postgraduates is just one way the School of Economics in the Faculty of Commerce is helping UCT students from the rest of Africa feel at home on the most southerly tip of the continent.
School of Economics alumnus Zani Müller recalls: "When I met Dale Mudenda, a second-year PhD student, he mentioned that he hadn't seen the sea yet. He had been in Cape Town for over a year. I quickly realised that this was quite common. He mentioned that many PhDs spend a substantial part of their lives in Cape Town, but never leave Rondebosch, Mowbray or Observatory."
All this is in the past, though. Today, the School makes an extraordinary effort to welcome students, especially those from the African Economic Research Consortium (AERC), which UCT hosts in conjunction with the universities of Dar es Salaam, Ibadan and Yaounde. The universities of Nairobi, Benin and Cocody (in Abidjan) also offer support to students on this unique taught-PhD programme.
Paula Bassingthwaighte, the School's postgraduate administrator, expounds on the value of the taught PhD: "The benefits are that the students are exposed to a wide array of techniques and methodologies, rather than immediately specialising. This means that the students obtain a good grounding in all the core subjects. In addition, they receive specialised training in their chosen field courses in a structured learning environment."
It is a novel blend of learning. For the first 18 months the students do coursework with Masters students. They then travel to Nairobi to complete electives, and then return to UCT start writing their theses, with the same demands as other doctoral students.
The value of this approach can be seen from the opportunities offered to graduates. They clinch the chance to work in governments across Africa, at Central Banks, the World Bank and at universities across the globe.
Bassingthwaighte is integral to the School's excursion programme, which has included train trips to False Bay as well as the CitiHopper Bus Tour of the Cape Peninsula.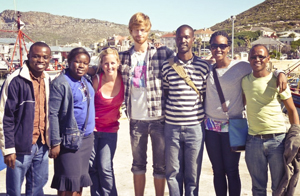 PhD sightseers: (l-r) Chijioke Nwosu, Alarape Oyedokun, Zani Müller, Vågard Nyård, David Khaoya, Rehema Msulwa, Ramaele Moshoeshoe.
Müller, the 'tour guide', picks up the story of how she became involved: "While doing the Masters in Economics (MCom) programme at UCT, I befriended a number of the PhD students who had just arrived in Cape Town. At that stage there were students from 10 different African countries: Kenya, Nigeria, Ghana, Swaziland, Zimbabwe, Namibia, Tanzania, Lesotho, Botswana and Mozambique.
"Initially, most of the students arrived at class looking flustered, after their long trek to Cape Town and the accommodation challenges they faced," says Müller.
Once accommodation was settled, she says, the next challenge was adapting to UCT's high standards. "The course content was very intense, for all of the students. For the PhDs it was also entirely different to what and how people had been taught in their studies previously. The PhD students were spending in excess of 16-hour-days on campus, organising study groups and asking UCT students for help: the price of failure is far too dear," Müller says.
"When I found out that Dale Mudenda had never seen the sea, we decided to launch a 'School of Economics Postgrad Simonstown Day'. We took the train out from Mowbray to Muizenberg, and walked alongside the sea, stopping for pictures. We had lunch at Kalkies at the harbour and got our toes wet in the tidal pool. We chatted, explored the little shops and took many, many pictures.
"Although I am no longer at UCT, I recently ran into another PhD student, David Khaoya, who gave me a friendly handshake and proclaimed: 'We would like to go to Kirstenbosch, please.' So, on the Red Bus we went, for another unbelievably enriching day."
---
This work is licensed under a Creative Commons Attribution-NoDerivatives 4.0 International License.
Please view the republishing articles page for more information.
---