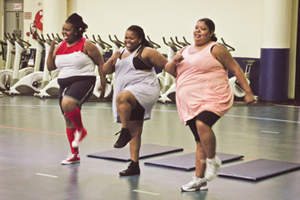 Members of the Cape Town-based all-girl soul singing group 3 Tons of Fun are on an exercise regime based on research by the UCT MRC Research Unit for Exercise Science and Sports Medicine at the Sports Science Institute of South Africa. This is aimed at making sustainable lifestyle changes for the group. In February, 3 Tons of Fun underwent in-depth testing and are now on an eight-week programme that includes three exercise sessions a week. Their final testing takes place on 11 April. In picture are 3 Tons of Fun: Sthe Mfuphi, Bulelewa Sakayi and Michelle Thomas, at the Sports Science Institute.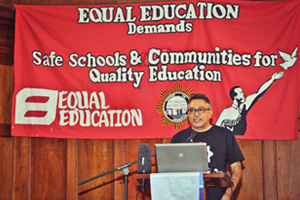 UCT's Jameson Hall was packed with concerned citizens as the Campaign for Safe Communities launched on 27 March. The national campaign, inspired by the 2012 Commission of Inquiry into Policing in Khayelitsha, is a coalition of civilians, from NGOs and academics to community organisations. It aims to address the issues that contribute to a high crime rate in South Africa. "The objectives of the campaign speak directly to our vision of working towards a safe South Africa, where freedom and security are the norm, rather than the exception," said Guy Lamb, director of UCT's Safety and Violence Initiative. Treatment Action Campaign founder and chairperson Zachie Achmat (pictured above) directed proceedings.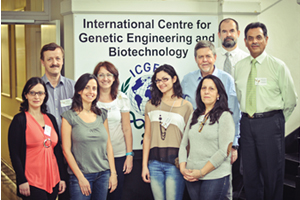 The role and use of bionanoparticles and nanohybrids is revolutionising medical science, particularly tissue engineering and drug development. UCT hosted a timely symposium on nanotechnology in March, under the auspices of VAIKUTUS, a European Union FP7-PEOPLE-funded project of the International Research Staff Exchange Scheme (IRSES). "Nanotechnology is a rapidly growing area," said Professor Iqbal Parker, host and head of the Centre for Genetic Engineering and Biotechnology (ICGEB), South Africa's official partner in the project. In picture are (from left, back) Prof Markku Leskela (University of Helsinki), Dr Iryna Grafova (University of Helsinki), Prof Cosimo Carfagna (ICTP-CNR), Prof Andriy Grafov (University of Helsinki), and Prof Iqbal Parker (ICGEB, Cape Town component, UCT). (Front) Dr Maria Grazia Raucci, Dr Giovanna Gomez d'Ayala, Daniela Giugliano, and Dr Maria Luisa Pompili, all of the ICTP-CNR.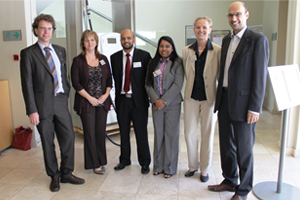 A workshop on fuel cell systems was co-hosted by UCT's HySA/Catalysis Competence Centre and Germany's Centre for Fuel Cell Technology (ZBT) in March, attended by representatives of South African and German industry, government and academia. The aim was to chart collaborations between the two countries in the field of hydrogen and fuel cell technology, which rely on platinum group metals. The HySA/Catalysis centre aspires to provide 25% of the world's fuel cell catalysts by 2020, preparing South Africa to be an exporter of value-added technologies that include platinum group metals to the world. In picture are (from left) Dr Peter Beckhaus (ZBT, Germany), Dr Sharon Blair (HySA/Catalysis), Muhamed Sayed (Technology Innovation Agency), Vinny Pillay (Department of Science and Technology), Maja Clausen (German Embassy) and Dr Olaf Conrad (HySA/Catalysis).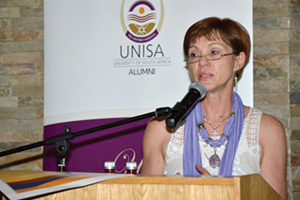 Executive director of UCT libraries Gwenda Thomas has been awarded UNISA's Department of Information Science 2011 Alumnus of the Year Award. The accolade recognises Thomas' professional contribution to library and information science. It was one of several awards made to UNISA information science alumni in Pretoria on 6 March. In her acceptance of the accolade, Thomas lauded UNISA's role in her personal growth and experience and in South African education over the decades. "[As] ...the original examining body of South Africa before universities became established, it's been such an important support for so many people." Thomas completed her honours and master's degrees in library and information science through UNISA.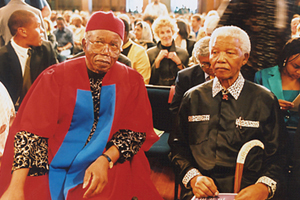 UCT mourns the loss of acclaimed Nigerian author, dubbed the "grandfather of modern African literature", and international scholar Chinua Achebe, who died on 22 March, aged 82. UCT's chancellor, Graça Machel, conferred an honorary Doctor of Literature degree on Achebe at a special graduation ceremony in September 2002. This ceremony took place in conjunction with the third Steve Biko Memorial Lecture, which Achebe delivered on 12 September. The special graduation was attended by former President Nelson Mandela (above right, pictured with Achebe). Achebe is best known for his novel Things Fall Apart, which tells the story of European colonisation in Africa from an African perspective.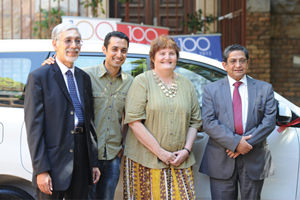 Comedian and actor Riaad Moosa visited his alma mater, UCT's Faculty of Health Sciences, to commemorate the donation of a car on 12 March. Moosa, who graduated as a medical doctor in 2001, used his comedic talents in his show Keeping You in Stitches to raise almost R200,000, which was donated to the faculty. A Toyota Avanza 1.5 was purchased from the proceeds and will be used for student transport to the faculty's Vredenburg training site. Rondebosch Medical Centre sponsored the fundraising drive and N1 City Toyota donated a significant discount to the car's purchase price. In picture are (from left) Dr Nisaar Moosa (Rondebosch Medical Centre), Riaad Moosa, Prof Sue Kidson (Interim Dean of Faculty) and Dr MI Shreef (director at RMC).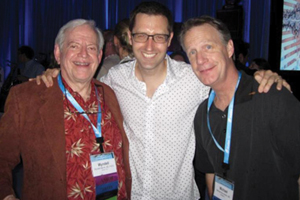 Christopher Price, a registrar in the Division of Plastic, Recon-structive & Maxillofacial Surgery, was awarded an international travel grant by the American Society of Reconstructive Microsurgery to attend their annual congress in Naples, Florida. This grant is awarded yearly to a deserving candidate from a developing country who has shown a commitment to further development of microsurgical skills, in an effort to train reconstructive microsurgeons from developing nations. The picture shows Price (middle) with the outgoing president, Dr Michael Neumeister (right) and Dr Wyndell Merritt, former president of the American Association of Hand Surgeons.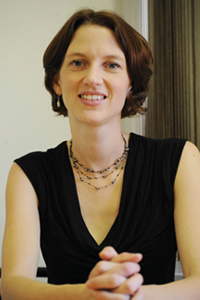 Dr Sarah Chapman is the School of Management Studies' first postdoctoral research fellow. Chapman develops methodologies for evaluating programmes and initiatives to reduce poverty, increase agricultural productivity and improve health and nutrition in rural Africa. Chapman's work will add significantly to the quality of monitoring and evaluation research done in the school. "In many cases, evaluation should not only assess whether an intervention works, but also why and how an intervention works," said Chapman.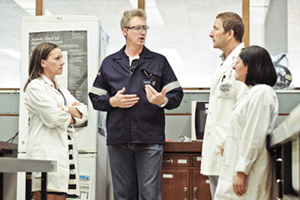 A SASOL Safety Auditing team visited UCT to conduct a sample audit of its laboratories and workshops. This audit is the first step in the university's commitment to satisfying minimum legal requirements for safety certification for all its facilities. The audit, conducted pro bono by SASOL's Safety Auditing team, took place in laboratories in the Faculties of Science, Health Sciences and Engineering & the Built Environment. The exercise was managed by the Laboratory Audit Working Group (LAWG), established by DVC Prof Danie Visser. LAWG ensures that UCT's laboratories are compliant with best international practice for health and safety. In picture are (from left) Liesl Phigeland (Safety, Health and Environment representative for the Department of Biological Sciences), Chris Beytell (Safety Officer, R&D, Sasol), Brett Roden (UCT Environmental Risk Officer), and Madhu Chauhan (Safety, Health and Environment representative for the Department of Molecular and Cell Biology).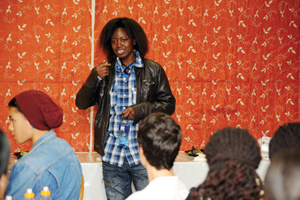 On 8 March, the African Gender Institute (AGI) celebrated International Women's Day by launching Feminist Africa 17, a journal capturing research about the sexuality of young women and written by academics from universities across Africa. The journal is spearheaded by the AGI's Associate Professor Jane Bennett, who explained that the idea behind the journal was to use university spaces as political spaces. Feminist Africa 17 contributor Peace Kiguwa, of the University of the Witwatersrand's Department of Psychology, was present at the launch, and spoke about her research in Lesbian, Gay, Bisexual and Transgender communities across the continent.
---
This work is licensed under a Creative Commons Attribution-NoDerivatives 4.0 International License.
Please view the republishing articles page for more information.
---