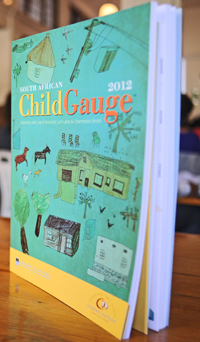 Being a child in South Africa can be trying. No fewer than 60% of children in South Africa live in poor households, where the income is less than R575 per person per month.
These are some of the stark facts highlighted in the South African Child Gauge 2012, released on 17 October by UCT's Children's Institute (CI), in partnership with the United Nations Children's Fund and UCT's Southern Africa Labour and Development Research Unit, or SALDRU. This seventh issue of the annual review of the situation of South Africa's children focuses on Children and Inequality: Closing the gap, as children are more affected by poverty and income inequality, which impact on their survival, development and life trajectories.
"Children have equal rights under the Constitution, but the worlds into which they are born and their opportunities in life are unequal," explains Katharine Hall, senior researcher at the CI.
Trevor Manuel, minister in the presidency, praised the report. "It is important to remember that children do not experience poverty and inequality in the same way as adults," he said. "Children growing up in poorer households don't only experience hunger, but the lack of nutrition impacts on their ability to concentrate at school and their ability to excel at sport."
---
This work is licensed under a Creative Commons Attribution-NoDerivatives 4.0 International License.
Please view the republishing articles page for more information.
---