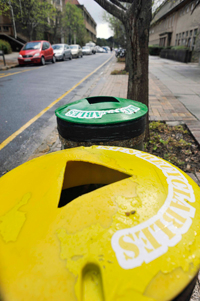 The green, yellow, blue and red bin lids that dotted UCT's upper campus are now but a bright memory.
In their stead, UCT's Green Campus Initiative (GCI) has instituted a (slightly) less colourful two-bin system for students and staff to jettison campus life's offal into. Pairs of green- and yellow-capped bins have illuminated upper campus walkways since the beginning of the second semester.
Whereas the UCT community would previously have separated their waste into bins devoted to either cans, plastic, paper or non-recyclable material, the new system has all recyclable material (cans, glass, paper, plastic, clean polystyrene, etc.) thrown into the green bins, while their yellow brethren swallow non-recyclable waste.
New GCI chairperson Ashleigh Arlot is happy to report that the Properties and Services Department has completed the rollout of the new bins to the upper campus and expect the auxiliary campuses to be fully furnished within six months.
The change, says Arlot, was borne of two factors: first, that Wasteman, the company that recycles UCT's waste, collects the waste in only two streams anyway, negating the need for four different bins, and, second, that some students, noticing the Wasteman representatives mixing all recyclable waste into one load upon collection, became disillusioned with the system, mistakenly believing their efforts to help keep UCT green to be in vain.
Arlot is confident the move to the two-bin system will herald more efficient recycling habits at UCT.
"It's simple, it's easy, it's convenient for everyone," she beams.
---
This work is licensed under a Creative Commons Attribution-NoDerivatives 4.0 International License.
Please view the republishing articles page for more information.
---