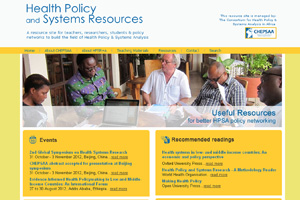 African-led: The CHEPSAA website is a good example of African countries taking the lead in promoting a new area of research on the continent.
UCT researchers and their partners are making use of a newly developed website to promote and create awareness of an emerging research field.
This website was developed by the Consortium for Health Policy and Systems Analysis in Africa (CHEPSAA) to encourage a wider understanding of the relatively new research field of Health Policy and Systems Research and Analysis (HPSR+A). CHEPSAA, which is funded by the European Union, consists of seven African and four European partner universities. It aims to develop the field of HPSR+A in Africa.
At UCT HPSR+A falls within the School of Public Health and Family Medicine and is led by Professor Lucy Gilson. According to Gilson her field "encompasses all the issues that underpin the delivery of good quality, efficient and equitable health care - including people and change management, as well as facilities and funding". She adds that in HPSR+A they work across disciplinary boundaries and think through specific questions in relation to their underlying system causes.
Central to the development of the field is teaching and thus, in addition to containing information about upcoming HPSR+A conferences, symposia and seminars, the website will contain open source teaching materials and information about curricula and courses. Lastly, the website is a means for the partners within CHEPSAA to network and to share their work with a wider audience.
For more information visit the CHEPSAA website.
---
This work is licensed under a Creative Commons Attribution-NoDerivatives 4.0 International License.
Please view the republishing articles page for more information.
---