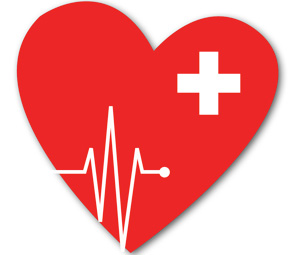 Dietetics students Kudzai Vere, Simon Wallis and Nicola Walters urge UCT students to look after their cardiovascular health.
The World Health Organisation reports that globally, cardiovascular disease is the leading cause of death. Although not the number-one cause of death in South Africa, cardiovascular disease is responsible for 29% of deaths annually.
There are many contributing factors that give rise to the incidents of cardiovascular disease, which include one's diet and lifestyle. September is Heart Awareness month and we are urging the students and staff of UCT to Be Smart For Your Heart by adhering to the three main aspects of our campaign: "Eat Smart, Act Smart and Live Smart".
Adapting one's eating habits is very challenging for most people, and a poor diet, is a risk factor for diseases other than cardiovascular disease.
In order to eat smart, try to have five portions of fruit and vegetables per day. Reduce saturated fats in your diet, which include the "animal fats", by removing visible fat before cooking, and opt for low fat products. It is important to still include fat in the diet; better options would be from plant sources, eg avocados and peanuts, and oily fish like snoek, sardines and salmon.
Incorporating lentils and beans into your diet increases fibre which helps to reduce the absorption of cholesterol into your blood. Not eating fried foods is likely to be a tough obstacle to a healthy diet; avoid pies, chips and other fried foods, but take a little extra time to make your own healthy alternatives.
Together with Eating Smart, remember to Act Smart by aiming for at least 150 minutes of physical activity per week, which can be divided into 10-to 30-minute sessions at a time. You can take a walk in a park, do some gardening or play a favourite sport.
Lastly, Live Smart by eliminating bad habits such as smoking and excessive alcohol consumption and ensuring that you have a good outlet for stress such as exercising.
For the rest of the month aim to Be Smart For Your Heart, but most importantly try to maintain these changes for the future to ensure that you live a healthy lifestyle to help prevent cardiovascular disease.
References
WHO (2011) Global status report on noncommunicable diseases 2010. 1-176
WHO (2011) WHO noncommunicable Diseases Country Profiles 2011. 1-207
Harbron J (2011) Lipids Lecture. Division of Human Nutrition, UCT
---
This work is licensed under a Creative Commons Attribution-NoDerivatives 4.0 International License.
Please view the republishing articles page for more information.
---