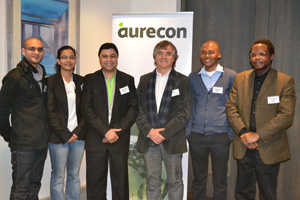 Support structure: (From left) bursary winner Leighton Leukes, bursary winner Janina Kanjee, EBE dean Prof Francis Petersen, Albert Geldenhuys of Aurecon, bursary winner Mpafane Deyi and Prof Alphose Zingoni, head of the Department of Civil Engineering.
Three students are reaping the rewards of a R2-million investment by engineering services company Aurecon into postgraduate civil engineering studies at UCT.
The trio from the Faculty of Engineering & the Built Environment are the first to receive bursaries from the Aurecon award; they are Mpafane Deyi, a PhD candidate whose research area is in water transport and distribution; Janina Kanjee, a master's student specialising in structural engineering; and Leighton Leukes, a master's student specialising in structural engineering and structural materials.
"The aim of the programme," explains Albert Geldenhuys, general manager for Aurecon South Africa, "is to encourage black South African students to further their studies in the field of civil engineering."
The gains from the investment will be felt more broadly than just by the students, noted faculty dean Professor Francis Petersen.
"It is critically important that we develop the relevant skills - not only for the economy, but also for the social needs of the country,"Petersen said.
In addition to the bursary, each student recipient is assigned to a mentor, who will be available to assist and guide them during their studies.
"It has been an honour to be awarded this bursary," said Kanjee. "It is great to see that industry is prepared to support research and invest in our personal development."
---
This work is licensed under a Creative Commons Attribution-NoDerivatives 4.0 International License.
Please view the republishing articles page for more information.
---