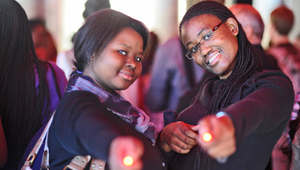 Carrying a torch: Students Vuyiswa Nkomonde and Chumasande Thembisa shine a light at the Candlelight Memorial.
It was a Candlelight Memorial with a difference at UCT on 10 May.
Yes, the matter in hand was the same: HIV and AIDS and, more specifically, stigma. Yes, there were again the typically powerful speeches: on the power of stigma and the need to eradicate stigma (thus this year's theme, Shine Light. Stop Stigma). And yes, there was, as always, some nice music to attract and entertain the audience: this time the celebrated rock band Plush.
But the new feature and perhaps the most eye-catching of this year's "vigil", as vice-chancellor Dr Max Price described it, was an art exhibition that ran alongside the formal and entertainment side of the memorial on Jammie Plaza.
| | |
| --- | --- |
| | |
| Running over: Fine-arts students Tamsyn Dodds, Laura Chittenden, Jolandi Coetzee, Cleo du Plessis, Elize de Beer, Kasey Davies and Kate Eriksen with their piece. | Jarring thoughts: Michaelis lecturer Fabian Saptouw and students Michelle Aucamp and Helen Aadnesgaard at one of the exhibitions on show at the memorial. |
Working with the university's HIV/AIDS Institutional Co-ordination Unit (HAICU), lecturer Fabian Saptouw of the Michaelis School of Fine Art had set the 62 fine-arts students on the school's foundation course the task of exploring the theme via an exhibition. As is par for the foundation course, students had to think about art in public spaces and, more especially, how to get students and staff to interact - comfortably or otherwise - with the pieces.
The students, divided into groups, approached the assignment from different perspectives. One group had a vending machine overflowing with condoms; which some students duly pocketed, as perhaps they were meant to do. Another designed and "planted" scarlet metal flowers, which passers-by could admire or pick. (A few did.) A third group scattered distinctive red and white beads on the plaza, inviting students to "play" with them, creating images or words. Yet another filled a few dozen jars with water, labelled them with everyday first names, and challenged students - as group member Helen Aadnesgaard explained - to think about the flow of life (represented by water), and the labelling of specimens and people with HIV/AIDS.
"Because it needs to be a conversation that we're all able to have with each other," says Aadnesgaard.
It's a conversation medical student Candice Daniels, one of HAICU's peer educators, also encouraged. "As a community we must take care with the language we use and must avoid stigmatising words," she said. "Share information and dispel the many myths and misconceptions that strengthen stigma."
It is this stigma and fear that scare many from doing the fundamentals, cautioned Price.
"Stigma prevents us from facing up to the issue; it prevents us from getting tested and seeking treatment," he said. This Shine Light campaign aims to shine a light on stigma and the perceptions about HIV/AIDS, and on the shadows we hide in."
In addition to the memorial, Shine Light also involves a series of workshops run by peer educators at residences and around campus.
---
This work is licensed under a Creative Commons Attribution-NoDerivatives 4.0 International License.
Please view the republishing articles page for more information.
---