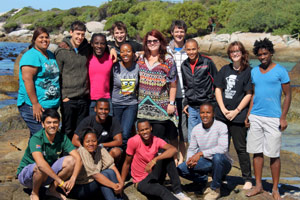 Washington wanderers: The UCT students, here with the rest of the SAWIP group, are Alexandra Appelbaum (centre back, with dark glasses), Rekgotsofetse Chikane (front, third from left), Saif Islam (far left, front), Phiwe Ndinisa (far right, back), Kwadwo Ofori Owusu (third from left, back) and Nondumiso Phenyane (second from left, front). Picture provided by SAWIP.
Expect lots of Facebook updates from six lucky UCT students when they jet off to 'The District', aka Washington, DC, in June this year.
This after they were selected to participate in the highly-rated South Africa-Washington International Programme (SAWIP) 2012 for young leaders, forming part of the 15 South African students handpicked for their records of 'excellence and service".
Alexandra Appelbaum, Rekgotsofetse Chikane, Saif Islam, Phiwe Ndinisa, Kwadwo Owusu and Nondumiso Phenyane made the final cut from a competitive screening process that started with 175 applications.
Overseen by governing boards in both the US and South Africa, SAWIP has since 2007 offered a six-month leadership development programme - including a three-week visit to the US capital - to students from UCT, Stellenbosch University and the University of the Western Cape. The programme will involve training sessions, service projects and fundraising exercises.
>[?Law master's student Ndinisa has a project close to his heart that he hopes SAWIP will help him realise. He aims to build, within the next year or two, a multi-purpose literacy centre in his hometown community in rural Transkei. "The planning has started now, but I think when we come back (from Washington, DC) we'll be able to work a bit differently and more efficiently," he says.
In turn Phenyane, a third-year international relations and organisational psychology student, was attracted by the programme's focus on service leadership. "The fact that it seeks to groom young people who are passionate about making a difference in South Africa is what really excites me about SAWIP," she says.
The programme started in April, and closes with the students' induction into the SAWIP alumni network in September.
---
This work is licensed under a Creative Commons Attribution-NoDerivatives 4.0 International License.
Please view the republishing articles page for more information.
---