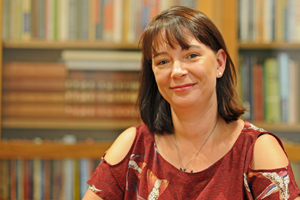 Literary imprint: Lecturer Sonja Loots has won this year's Eugene Marais award for her historical novel, Sirkusboere.
Sonja Loots is treading deep tracks in the Afrikaans literary world - she recently joined an elite list of novelists recognised for their early work.
Loots, a lecturer in the Afrikaans and Netherlandic Studies section in the School of Languages and Literatures, has won this year's Eugene Marais prize from the South African Academy for Science and Art, for her book Sirkusboere.
The award, first introduced in 1961, recognises up-and-coming Afrikaans writers. Previous UCT recipients include literary legends André P Brink (1963), Etienne van Heerden (1984) and Joan Hambidge (1987).
"I am proud to follow in the footsteps of many of my favourite writers who won it before me," Loots says.
Her debut book, Spoor, was published in 1995. The 'break' between the two books, she says, was used to do the extensive research for Sirkusboere - a historical novel about former Anglo-Boer War generals who were recruited to the US to form the so-called 'Boer War Circus', where they enacted scenes from the war.
Despite her initial fears of how the book would be received - there's lots of humour, some risqué scenes and serious politics - Sirkusboere is flying off the shelves.
Can we expect a next book? She's writing a play, she says, and working on her PhD at Stellenbosch University.
---
This work is licensed under a Creative Commons Attribution-NoDerivatives 4.0 International License.
Please view the republishing articles page for more information.
---