This past ratings cycle has been a particularly impressive one for UCT.
Despite the challenges presented by the National Research Foundation's (NRF) online application system, the university's researchers - to their great credit, says Professor Danie Visser, deputy vice-chancellor responsible for research - kept their heads down and completed their application forms ("willingly, if not always uncomplainingly!"). And in the end it all paid off handsomely: a total of 95 members of staff received ratings in this round.
Of these, no fewer than 47 were first-time applicants. Three of the first-time applicants received P-ratings, aimed at up-and-coming researchers with the potential to become international leaders in their fields. (The ratings were something of a coup for UCT, as only four were awarded for the country as a whole this time around.)
The latest of the P-ratings was made to Dr Shadreck Chirikure of the Department of Archaeology. (See below.)
In addition, 48 applications for re-evaluation were approved. Among these were the successful re-evaluations of Professor George Ekama of the Department of Civil Engineering and Professor Hans-Peter Künzi of the Department of Mathematics and Applied Mathematics, who kept their A-ratings and standing as world leaders.
UCT also earned a brand-new A-rating in the cycle, that of Professor Ed Rybicki of the Department of Molecular and Cell Biology.
"We're obviously very pleased with the results of this rating cycle," observed Visser. "This not only points to the quality of our research, but is also a testimony to the quality of the support provided by Dr Marilet Sienaert's team in the Research Office. The review and refinement of the rating applications were led with great efficiency and dedication by Christina Pather and Rob Morrell."
2011: New ratings
Y-rating
21
B-rating
6
C-rating
17
P-rating
3
2011: Re-evaluated ratings
A-rating
3
B-rating
21
C-rating
23
Unfinalised
1
Chirikure P-icks up P-rating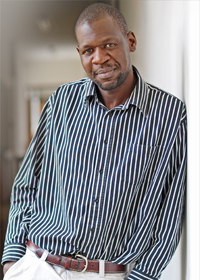 Dr Shadreck Chirikure rarely gets calls from UCT's senior leadership, so when deputy vice-chancellor Professor Danie Visser phoned him recently he was taken by surprise.
It was a good surprise, though. Chirikure, of the Department of Archaeology, had become the third UCT scholar to receive a P-rating from the National Research Foundation (NRF) in the recent round of ratings, along with Dr David Braun and Dr Amanda Weltman. The NRF awards the hard-to-come-by P-ratings to young scholars who demonstrate the potential to become future leaders in their fields.
Chirikure's work, conducted alongside local and international counterparts, focuses on technology and social issues associated with pre-colonial mining and metal working, as well as heritage management in Africa.
Drawing as he does on diverse disciplines such as engineering, archaeology, sociology and heritage, the research comes with its own challenges, he says.
"The danger of diversity is that your work may lack the depth to be constructive and meaningful, and you need to tread carefully."
His current projects include a book on heritage issues in Africa.
---
This work is licensed under a Creative Commons Attribution-NoDerivatives 4.0 International License.
Please view the republishing articles page for more information.
---