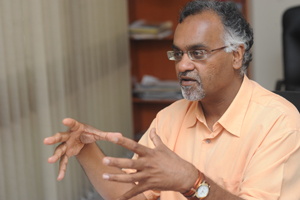 International multiculturalism and social justice expert, Associate Professor Biren "Ratnesh" Nagda, of the University of Washington School of Social Work and director of the Intergroup Dialogue, Education and Action (IDEA) Centre, presented a series of workshops to UCT Adapt co-ordinators, staff and faculty in January. Monday Paper spoke to him briefly about his work and his visit to UCT.
What is the message you want to convey at UCT?
The possibilities of multiculturalism cannot be taken for granted; they must be actively engaged in every facet of the university to realise the true potential. The work of transformation is not merely individual change but also institutional change. Multiculturalism and transformation have to involve everyone, those who have been marginalised and those who are privileged. One method for doing this is to provide structured opportunities for honest, real, and courageous conversations among diverse constituents so that we may collectively reshape the institution and forge the path toward justice.
What does multiculturalism mean in this context?
One way I like to think of multiculturalism is as a patchwork quilt. By that, I don't mean that the different pieces of the quilt represent different people and cultures. Rather, multiculturalism is an ongoing, engaged process of weaving our lives together, the ways in which we thread our connectedness in the context of societal separatedness. Building relationships as a nexus of change is crucial for transformation. The challenge is to find a way to bring people from different realities together to make a greater whole - where we recognise our different experiences and understand why these differences exist, bridge these differences while we honour our distinctive identities, and develop a shared responsibility for greater justice.
What is your experience of UCT and South Africa?
I am excited about the transformation ideas and programmes at UCT. I am struck by the diversity of students from different backgrounds at UCT, not only from South Africa but also from other African countries and other parts of the world. Yet UCT cannot rest on its laurels as a premier university, but needs to wrestle with the legacies of justice it can create for South Africa, and Africa, and indeed for our shared global future.
---
This work is licensed under a Creative Commons Attribution-NoDerivatives 4.0 International License.
Please view the republishing articles page for more information.
---