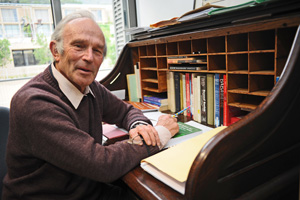 Next round: Emer Prof Francis Wilson led the last Carnegie study and has been called on to pull together the Carnegie 3 conference in September too.
The
Carnegie 3 conference
on poverty and inequality in South Africa, due to kick off next month, has attracted 308 papers, including submissions from 19 South African universities and seven others from around the world, including Princeton and Oxford.
The poverty and inequality conference coming up at UCT is designed to kick-start some national thinking on poverty and inequality. Not so much on the scale and nature of poverty and inequality - that much has been done - but on how to start fixing the problem
For a major event put together in a hurry, as has been the breakneck case of Towards Carnegie 3: Conference on Strategies to Overcome Poverty & Inequality, to be hosted by UCT from 3 to 7 September, things are going surprisingly well.
The conference, dubbed Carnegie 3 in reference to the two previous studies on poverty and inequality in South Africa that were funded by the Carnegie Corporation of New York, is already matching or even surpassing its predecessors. The meeting that preceded the study and report that became the Second Carnegie Inquiry into Poverty and Development in South Africa in the early 1980s, for example, took around three years of planning and attracted some 300 papers.
The UCT gathering, which by the time it is staged will have gone from concept to conference in around a year, has - since the call for papers went out in May - drawn 308 papers, reports Emeritus Professor Francis Wilson, who led the last Carnegie study and who was called on by Vice-Chancellor Dr Max Price to pull together this event as well. That tally includes submissions from 19 South African universities and seven more - Oxford and Princeton among them - from elsewhere in the world.
The deluge reflects the range of interests in the subject, says Wilson. The conference - which for the sake of time will be concertinaed into a phalanx of parallel sessions and mini-plenaries -will similarly cover a spectrum of themes; from rural development, early childhood and agrarian reform to the state's obligation to children, barrier regulations and partnership in education.
The turn-out will, in turn, reflect the aim of the conference, which is to bring together people from across the country rather than make this a UCT show, says deputy vice-chancellor Professor Crain Soudien.
"We don't see ourselves here in isolation from the rest of the academic community in the country," he notes. "There are really interesting things happening elsewhere in the country, which we would like to be in a relationship with."
Serendipity has also played a hand. A chance conversation with Don Edkins, documentary filmmaker and director of the non-profit organisation STEPS South Africa, has led to the production of a film on poverty in South Africa, which will be among others in a STEPS series to be screened at the conference.
And if the gathering was not able - as was originally aimed - to feed into the National Planning Commission's (NPC) National Development Plan 2030, all is not lost; instead, that document, presented by NPC Minister Trevor Manuel to President Jacob Zuma on 15 August, will now feed into discussions at the conference (and the subsequent work) as to how the Plan should be implemented in the years ahead.
The conference itself, all the brainpower and know-how present notwithstanding, will not come up with all the answers or even tackle every question in detail, says Wilson. It is merely phase one of what is planned to be a longer two- or three-year process of the third Carnegie Inquiry.
Wilson, for one, trusts that the conference will at the very least get people across the country and across disciplines talking to each other. And get others thinking about the issues in new ways.
"This is a kick-start conference," he says. "I do think that there is room for cross-disciplinary challenges, and I'm hoping it will provide more inter-disciplinary knowledge."
Listen to Emer Prof Francis Wilson speaking on the upcoming conference.
---
This work is licensed under a Creative Commons Attribution-NoDerivatives 4.0 International License.
Please view the republishing articles page for more information.
---