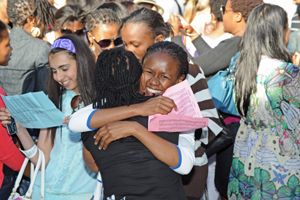 Jubilation: Each year health sciences students like these 2010 graduands celebrate the release of their results in early December. This year there was a 98% pass rate among the MBChB class of 175 students, 41 of whom passed with first-class honours. The top final-year student was Kate McMullen. The Overall Gold Medal was shared between McMullen and Juanita Becker.
Graduation ceremonies are the highlight of our academic calendar: celebratory and memorable occasions for the hundreds of graduands and their families.
UCT will stage no fewer than 12 ceremonies over six days, 12 to 17 December, and our teams will be hard at work, even on the Day of Reconciliation on 16 December (for which we are most grateful!)
We are proud to be awarding a number of special awards, news of which appears on pgs 2 and 3: honorary doctorates to Dr David Potter and Mary Burton, the Chancellor's Award for Outstanding Leadership in Africa to Archbishop Emeritus Desmond Tutu, the first Chancellor's Award to Di Oliver, and the President of Convocation Medal to Professor Richard van der Ross.
Our graduation ceremonies have grown steadily in number and size over the years. In 2010, for example, we capped 5 062 students over the December graduations, up almost 400 from the 4 768 in 2009. (And 4 489 in 2008, and 4 507 in 2007.)
This week, just under 5 250 students are expected to graduate. (These numbers, the latest available as Monday Paper went to print on 8 December, are subject to change.)
Of these, 1 808 will hail from the Faculty of Humanities, 1 378 from the Faculty of Commerce, 782 from the Faculty of Engineering & the Built Environment (EBE), 580 from the Faculty of Science, 534 from the Faculty of Health Sciences, and 167 from the Faculty of Law.
"Every single graduation is a success story. It represents years of hard work from the student, and the dedicated support and encouragement of a host of 'backroom staff' - from family and friends to lecturers, tutors, demonstrators and supervisors," said Gerda Kruger, executive director of the Communication and Marketing Department.
But of course, being a research-led institution, we take particular pride in the hundreds of students who officially cap their postgraduate studies. (Many will push on again next year; among these, we hope, will be the next generation of scholars.)
For example, UCT will graduate 89 Doctors of Philosophy this week. The total number of PhDs awarded for 2011, including the June graduates, stands at 152.
The faculty breakdown for December's PhD graduates is 27 from Science, 24 from Health Sciences (including seven from the Department of Medicine, as recorded on page 4), 15 from Humanities, 10 from EBE, seven from Commerce, and six from Law.
The Faculty of Humanities will cap the largest numbers of students finishing diplomas and certificates (436) and honours degrees (347); while EBE will graduate the biggest cohort of master's students (144).
All in all, another remarkable year for UCT.
---
This work is licensed under a Creative Commons Attribution-NoDerivatives 4.0 International License.
Please view the republishing articles page for more information.
---