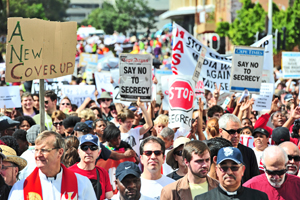 Outside, the protests were vocal and varied - UCT, for example, blacked out its home page - but inside Parliament the Protection of State Information Bill was passed without too many hiccups on 22 November.
Immediately after the announcement, UCT, other organisations and individuals voiced their disappointment that Members of Parliament had voted 229 to 107 in favour of the Bill.
"While we believe the Bill will not ultimately find its way into law, but will be amended or stopped as it goes through the process, it is nevertheless extremely disturbing that the legislation was able to cross the bridge it did today," read a UCT statement released shortly after the news broke.
As the Bill stands, anyone possessing classified government documents may face stiff penalties and prison sentences, and there is no public-interest clause that can protect whistleblowers.
But civic society has not thrown in the towel just yet. There's talk of taking the Bill and the government to the Constitutional Court. It's here that the more offending parts of the Bill can still be stalled, some commentators - such as UCT's Professor Pierre de Vos - believe.
"The bill is much improved from previous versions," De Vos told AFP. "However, I suspect some provisions may very well still be declared unconstitutional by the Constitutional Court."
There's one more hurdle for the Bill to clear - the National Council of Provinces (NCOP). But many feel that the NCOP will be unlikely to make any recommendations or changes of substance. Or that President Jacob Zuma, the Bill's next stop after the NCOP, will pause before green-lighting it.
Protests continue.
---
This work is licensed under a Creative Commons Attribution-NoDerivatives 4.0 International License.
Please view the republishing articles page for more information.
---