Janet Suzman is back on the SA stage | UCT students call the tunes at SAMRO | A Canada-based graduate nets a major chair for women in the sciences | Postgrads talk science at a symposium.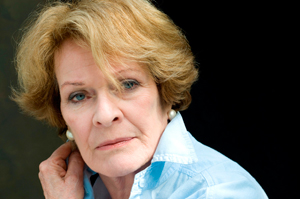 Internationally-acclaimed South Africa-born actress and director Janet Suzman returns home to perform on the South African stage for the first time in 35 years when she stars in Lara Foot's Solomon and Marion at the Baxter Theatre from 26 October to 26 November. Suzman last performed on home soil at the Market Theatre in Johannesburg way back in 1976. In a career spanning five decades, Suzman, who received an honorary doctorate from UCT in December 2010 in recognition of her extraordinary achievements in theatre, has played almost every one of Shakespeare's female leads. In June this year she was made Dame Commander of the Order of the British Empire (DBE) for her services to drama.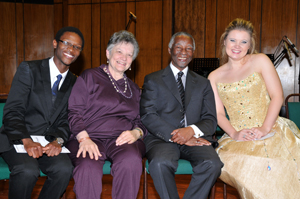 Maudé Montierre and Vuyo Sotashe, both students at UCT's South African College of Music, were named as the winners of the 2011 Southern African Music Rights Organisation (SAMRO) Overseas Scholarships Competition. Montierre won the scholarship in the western art music category, while Sotashe was awarded top honours in the jazz/popular music category. Each winner receives a coveted R160 000 scholarship plus a R10 000 travel allowance from SAMRO's Endowment for the National Arts to study music at a recognised international institution. In picture, Sotashe (far left) and Montierre (far right) are seen at the awards presentation with Annette Emdon, chairperson of the SAMRO board, and former president Thabo Mbeki, who presented the students with their prizes.
UCT alumnus Dr Tamara Franz-Odendaal has become a shining example for young women in Canada. Franz-Odendaal, a biology professor at Mount Saint Vincent University, has been named as the holder of the Chair for Women in Science and Engineering for the Atlantic Canada region, awarded by the country's Natural Sciences and Engineering Research Council (NSERC) for 2011. Living in Canada for the past nine years (she finished her PhD at UCT in 2002), she has established a thriving developmental-evolution research group at 'The Mount'. There her research is focused on the development of the vertebrate skeleton, with particular focus on the craniofacial (head and face) skeleton, and the role in its formation of a group of embryonic cells known as neural crest cells.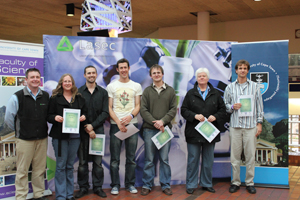 The Science Postgraduate Students Association hosted its fourth annual Science Symposium recently. Over a day of oral and poster presentations, the postgrads represented their work to mixed audience, including representatives from sponsors Lasec, Inqaba Biotech, Unilever and Advanced Laboratory Solutions. The day ended with a prize-giving ceremony. In the poster presentation category, Simon Broadley of the Electron Microscope Unit walked away with the first prize, Sam Jack from the Department of Botany came second, and Deanne de Bude from the Department of Astronomy was in third place. The oral presentation category was won by Alistair Potts from the Department of Botany, Philip Southey of the Department of Physics was named runner-up, and Marietjie Kotze, also from Botany, came third. In picture are (from left) Lasec representative Terry Wilson, De Bude, Broadley, Jack, Potts, Kotze and Southey.
---
This work is licensed under a Creative Commons Attribution-NoDerivatives 4.0 International License.
Please view the republishing articles page for more information.
---