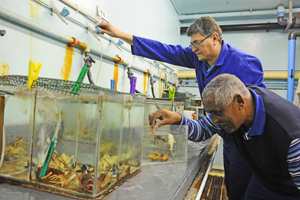 Jacks of all trades: George du Plessis (back), chief technical officer and workshop manager at the Department of Zoology, and assistant Granville Faulmann check water quality in the zoology aquaria.
What they do on a day-to-day basis?
It's a job short on dull moments, and Du Plessis and Faulmann are veritable Jacks of all trades, so many and diverse are their functions. One day the duo can be found manufacturing or repairing equipment for students and researchers, another modifying cupboards in their wood and metal workshops. Although their workshop is a mechanical and woodwork facility, Du Plessis, a qualified signals electrician, also repairs electronic equipment like heater baths or laptop power supplies. They also make and repair animal traps to catch rock lobster, crabs, birds, snakes, moles, and other creatures for zoology practicals. The two also service and maintain the department's five aquaria (four salt water and one fresh water. Fresh sea water is collected every fortnight from the Marine and Coastal Management (MCM) depot in Sea Point, using a one-ton water tank trailer. They make up to eight trips to the MCM aquaria over two days. They also join sea and land field trips to help students with their research. The pair must also ensure that the department's three vehicles and three trailers are always in tip-top condition. Both have Professional Driving Permits.
What challenges do they face?
Students come knocking at their door for help with projects. "We work on a first-come, first-served basis, and we try to prioritise and juggle things to assist everyone timeously," Du Plessis says. "But sometimes their assignment deadlines are tight and they can be demanding. That can be challenging." p
What are the highs and the lows of the job?
Their job is never boring. "In one month I could be skippering the MA-RE boat on the second-year 'Life in the Sea' field camp, turning something on the lathe or collecting specimens," says Du Plessis. Another highlight is the fact that they join different field camps. Not only are they responsible for all the field camp vehicles, but also for packing the equipment needed. On the marine field camp, Du Plessis puts on his catering hat: calculating the amount of food needed for the five-day camp, setting up the kitchen (they're also dab hands at braaiing), and skippering the 7.2m boat. Faulmann also uses skills learnt from a stint in the Teaching Methods Unit to help iron out glitches that the lecturers have when setting up the audio-visual components for field camp lectures. The two are also on standby, day or night, for any emergency related to their work, such as water overflows from the aquaria, or faulty machines.
What's the weirdest thing they've encountered on the job?
For a research project on porcupines, Du Plessis once modified a miniature, off-road, radio-controlled dune-buggy so that it could work off a multi-core electric cable, which they had to hard-wire to the buggy and hand-control. He also had to mount a camera on the front, and design an infrared light emitting diode array around the camera so that it could pick up images of the porcupines and their young in their burrows. (The cable was hard-wired to the buggy so that it could be pulled out if it got stuck.)
---
This work is licensed under a Creative Commons Attribution-NoDerivatives 4.0 International License.
Please view the republishing articles page for more information.
---