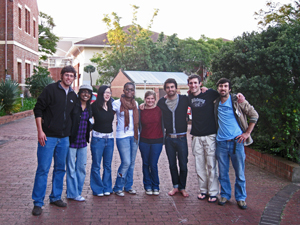 Joining forces: GCI members who attended the Bluebuck summit were (from left) Richard Parker, Rivonia Pillay, Sam Lee Pan, Rirhandzu Marivate, Kate Pallett, Andrew McNaught, Dane Rossenrode and Nicolas Wiid.
UCT's Green Campus Initiative (GCI) was a major player in the new BlueBuck Network's first summit held at Rhodes University during the winter vacation. Established with the University of Stellenbosch's EcoMaties and Rhodes University's South East African Climate Consortium Student Forum, BlueBuck met to discuss future plans, and the forthcoming 17th annual United Nations Framework Convention on Climate Change to be held in Durban in December.
The GCI's Kate Pallett and Dane Rossenrode filled us in on the new network.
What exactly is the BlueBuck Network?
It's an NGO that co-ordinates groups involved in environment and sustainability work and projects. Any organisation involved in sustainability and environmental work is eligible to join. BlueBuck shares resources, assists new start-ups and helps members link up with each other, while keeping everyone up to date with environmental news.
Why are the youth specifically targeted?
Students have traditionally been agents of change and revolution. In the case of a sustainable future, dramatic change in society can be catalysed by youth taking responsibility for the future.
Is this an attempt to change the behaviour of students?
BlueBuck aims to change student behaviour by enabling organisations like the GCI to start, share knowledge and run effectively. Also, the network acts as a go-to for students, encouraging activism within the general student body.
What challenges does the network face?
Organising a project long-distance was a challenge. But sharing goals and motivations, despite us being such a diverse group, made it easier.
What are the future plans?
With the global climate change summit in Durban coming up, we're working hard to get BlueBuck off the ground as soon as possible. We aim to become more representative of the Southern African youth, form a base of knowledge relevant to its members and keep everyone motivated to conserve and sustain our planet.
What incentives do you offer to get involved?
BlueBuck offers an opportunity for some amazing personal growth, as well as a platform to make meaningful change to the world.
Would you say students are generally interested in environmental matters?
There has been an overwhelming response to the BlueBuck Network. Unfortunately, we're discovering that although most students are informed about environmental issues, they're not informed enough to start dealing with these problems.
Could a network like this be extended beyond universities?
The network would be effective if applied in areas other than the youth. Generally though, individuals need to be passionate enough to make such networking possible and effective!
---
This work is licensed under a Creative Commons Attribution-NoDerivatives 4.0 International License.
Please view the republishing articles page for more information.
---