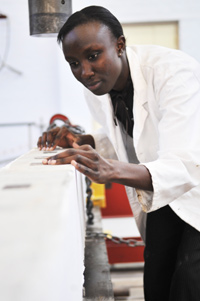 Solid win: Rachel Muigai has won a prestigious and handsome fellowship for women in science in sub-Saharan Africa.
Rachel Muigai, a PhD student in the Department of Civil Engineering, is one of 10 young women selected for a L'Oreal-UNESCO Regional Fellowship for Women in Science in sub-Saharan Africa.
These fellowships are in keeping with UNESCO's premise that people are the world's greatest resource, and that innovation and excellence, especially among young women, deserve to be supported and encouraged through the concerted efforts of the international community.
Each recipient will receive a grant of $20 000 (over R135 000) to help them complete their studies, and to enable them to raise their profiles, showcase their work, and drive their projects. More generally, they are expected to encourage other women to take up careers in science.
Muigai is doing her doctoral research in the Concrete Materials and Structural Integrity Research Group (CoMSIRU). Last year, she received a six-month research grant from the German Academic Exchange Service and spent the time at the Technical University of Munich in Germany.
"I am extremely grateful to be awarded this fellowship by two international organisations - L'Oreal and UNESCO - and am thankful to them for considering my thesis and supporting it," said Muigai.
Muigai is a deserved winner, observed CoMSIRU's Professor Mark Alexander.
"CoMSIRU has been fortunate in attracting international - and local - students of outstanding quality," said Alexander. "Rachel Muigai is certainly one of these, and the L'Oreal-UNESCO award that she is receiving is evidence of this."
Written by Mary Hilton
---
This work is licensed under a Creative Commons Attribution-NoDerivatives 4.0 International License.
Please view the republishing articles page for more information.
---