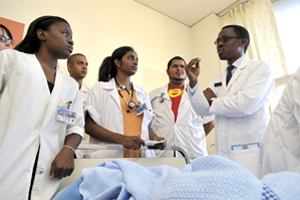 Prof Bongani Mayosi, head of the Department of Medicine at UCT, on a ward round with medical students. Mayosi, who completed his PhD at Oxford University, returned to South Africa to tackle the growing burden of heart disease, specifically heart muscle disease. To address skills shortages, the department has created the Clinical Scholars programme, or a 'pipeline of professors', to improve training.
The Faculty of Health Sciences is hard at work establishing a Global Health Initiative (GHI) to generate knowledge and expertise in global health through research, education and collaboration.
The GHI will address major challenges in global health, through a "southern" lens, with the goal of attaining global health equity, explains Dean of Health Sciences Professor Marian Jacobs.
Jacobs is directing the development of the GHI together with the deputy dean, Professor Greg Hussey, and with support from UCT medical alumnus Dr Salih Solomon, a Rhodes Scholar who studied global health at Oxford University.
"The challenges of global health present a significant threat to the health and well-being of individuals and communities around the world, with the greatest impact on the low- and middle-income countries comprising the global South," says Jacobs.
Despite the reality that developing countries bear the brunt of global ill-health, the vast majority of global health initiatives are located in universities in the developed countries of the global North. UCT will become the first university in Africa to establish a Global Health Initiative, joining more than 90 global health initiatives at academic institutions across the world.
Jacobs believes this initiative has a pioneering role to play in addressing issues of global health from an African perspective. "With a range of academic activities contributing to research, education and health development on the continent, UCT is well-placed to generate further knowledge and expertise in global health; and in so doing, to advance the goal of global health equity and - ultimately - health for all," she says.
The initiative is multidisciplinary, and will harness and integrate cross-faculty expertise within UCT as it relates to health, social, legal and biological sciences, focusing expertise on the aspects that challenge health. The Institute will seek further collaboration with other trans-disciplinary initiatives in areas such as climate and urbanisation, as well as building on the strong links that have been established with African academic institutions and individuals over decades.
Significant progress has been made in the planning stage: this includes a series of consultations with individuals and groups at UCT and globally. In particular, networks such as the revitalised African Medical Schools Association provide a vehicle through which strong links are being forged.
UCT's health sciences faculty's links with counterparts in Africa and elsewhere in the world span several decades and comprise numerous collaborative initiatives in teaching, research and clinical practice. The creation of the GHI will further consolidate new knowledge generated from these collaborations, and help disseminate this information globally.
"At UCT, we believe these collaborations provide an effective way to successfully research disease and the health systems which aim to manage ill-health. At both Institute and individual levels, a large number of research collaborations and partnerships exist within Africa and far beyond. Through collaborative research, we get to share knowledge and tap into the skills and experiences of our partners.
"We are grateful that UCT continues to be the chosen partner of leading national and international research institutions, foundations, networks, government and non-governmental organisations, industry and academia," Jacobs concludes.
---
This work is licensed under a Creative Commons Attribution-NoDerivatives 4.0 International License.
Please view the republishing articles page for more information.
---