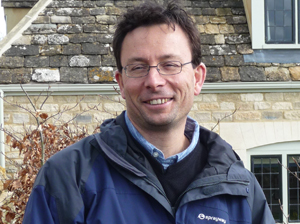 Full circle: Alumnus Prof Mark New returns to Cape Town and UCT to head up the university's African Climate and Development Initiative.
UCT is set to be a hotspot for global warming research
At all of our peril should the world discount the part that Africa has to play in the international climate-change arena. "I'd argue that climate change issues are as important, if not more so, in Africa than in the developed world," says Professor Mark New. Appointed just a few weeks ago as UCT's first pro vice-chancellor and director of the African Climate and Development Initiative (ACDI), New's comments echo exactly the sentiment and driving force behind the ACDI.
Identified as a strategic research interest of national and international concern by vice-chancellor Dr Max Price in his installation address, the ACDI sets out to build knowledge and research capacity in climate change at UCT.
New's job will be to provide leadership, bring together those who work across disciplines, faculties and departments in this field at the university, and rev up UCT's already impressive research record in climate change.
The initiative's bottom line is to address Africa's climate and development challenges from an African perspective. And, as New and others on the ACDI have pointed out, there's plenty to be concerned about.
For one thing, Africa is one of the regions most sensitive to climate change, explains New. That's not only because climate is more variable in the tropics and sub-tropics, but also because there's often less capacity to cope with the impacts of climate change.
And as economies speed up on the continent, as many predict they will, there are worries that these will not always follow what New calls "a low-carbon development pathway". Which is where Africa's scholars and scientists come in.
"While much of what needs to be done in Africa on the climate issue is political and economic, it is important that the research community works to provide the best evidence, appropriate to the African situation, for the political and economic decision-makers," he says. "So I think there are amazing opportunities - and a responsibility - to focus on climate change."
He may have been based in the UK, at the Oxford University's School of Geography and the Environment, these past many years, but New is familiar with the African - and the broader developing world - situation. He's worked with international groups such as the International Water Management Institute, the International Livestock Research Institute and the World Wide Fund for Nature and, in addition to working in Southern Africa, has conducted research in South Asia (with the UK Department for International Development) and South America.
A UCT graduate (born in the UK, but schooled in South Africa), New has also kept in touch with his alma mater, especially through the Climate Systems Analysis Group headed by Professor Bruce Hewitson, who holds the national chair in climate change at UCT. In fact, over recent years the two have co-headlined a few papers on climate change trends and processes in Africa.
New isn't too bothered about swapping the Oxford brand for UCT - hey, it's the only African university listed among the world's top 200, he points out, and his family lives in and around Cape Town. And he will retain a visiting position at Oxford.
But he knows he has a stiff task ahead.
"Part of my job will be to make sure that UCT is the first port of call for anyone wishing to fund research on climate change and development in Africa," he says.
That will be one of his two main challenges, observes Hewitson. "There are a lot of different activities going on at UCT on climate change, and we are in a good position to be a leader on the continent, but it requires bringing some synergy to our efforts to be a voice on the continent," he says.
The second is to cross the divide between disciplines and departments and research groups. Something New was part of at Oxford, where his department's Environmental Change Institute fostered the kind of interdisciplinary collaboration that the ACDI attempts to bring about at UCT.
"He's good at working across domains, and he has broad interdisciplinary experience," comments Hewitson.
"I think the key is to create an enabling environment," says New. "True interdisciplinary research is not easy ... but when it is successful, the results can be very exciting and novel."
Cape Town may not be novel to New, but there will be some transition. He leaves behind his partner and two children in Oxford - so the eldest, 16, can finish his A-levels there - and expects there'll be a bit of to-and-fro travelling for the next two years (not so environmentally friendly, he appreciates). But he will be accompanied by the family dog - who often goes to the office with him - and fears some in his Oxford department may miss the dog more than him.
And while not big on extramural activities - "I have a stellar record in propping up the foot of the university squash ladder, kicking people rather than the ball in five-a-side soccer, getting caught at long-on in the interdepartmental Twenty20 cricket competition" - he is looking forward to getting reacquainted with an old Cape Town flame: surfing.
---
This work is licensed under a Creative Commons Attribution-NoDerivatives 4.0 International License.
Please view the republishing articles page for more information.
---