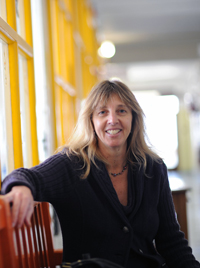 Prof Heather Zar, based at the Red Cross Children's Hospital, will lead a major new study on lung health among children.
A multi-million rand research grant will underpin a four-year longitudinal study on the causes and results of respiratory illnesses among children in the Drakenstein area of the Western Cape.
Professor Heather Zar, head of UCT's Department of Paediatrics and Child Health, has been awarded a $7.56 million (R52.9 million) research grant by the Bill and Melinda Gates Foundation for a study that will track the lung health of children in the Drakenstein region in the Western Cape.
Aptly titled The Drakenstein Child Lung Health Study, the longitudinal study will follow 500 mother-child pairs over four years to investigate the incidence, patterns and causes of respiratory illnesses, specifically pneumonia, or infection of the lung, in early life.
Researchers will track children until they're about two years old. That extended time frame, they hope, will give them insights into the many factors associated with respiratory illnesses in young children, and what impact early-childhood pneumonia will have on later life and on child health.
The research team will be made up of seven sub-groups. The groups will look at the associations between pneumonia and seven risk factors, - the immunological, environmental, infectious, maternal, nutritional, genetic and psychosocial - and, revealingly, the interactions between those risk factors.
"It's often not one thing," says Zar. "It's malnutrition and exposure to tobacco smoke and germs; all of which may come together in a child who may already be vulnerable."
The study will take place in the Drakenstein sub-district of the Cape Winelands, and researchers will work closely with Paarl Hospital, where the majority of births in the area take place, and with local clinics.
The project is the first of its kind - the longitudinal element - for South Africa and Africa, where pneumonia remains a leading cause of death among children, explains Zar. It is also of particular use because it will measure just how effective current health measures are, as the Drakenstein is a low- to middle-income area where vaccines against pneumococcus and H influenzae, bacteria responsible for pneumonia and other respiratory conditions, are readily available.
Zar will work with an expert group of collaborators from UCT, Stellenbosch University and the Drakenstein authorities. They will include co-investigators Professor Gregory Hussey, Professor Mark Nicol, Professor Dan Stein, Professor Colleen Adnams, Professor Raj Ramesar, Professor Willem Hanekom, Associate Professor Landon Myer and Anna Grimsrud of UCT, as well as Stellenbosch's Professor Robert Gie, and Dr Eckart von Delft, head of paediatrics at Paarl Hospital.
A local operational advisory committee has been established, comprising leading members of the management team of the Provincial Government of the Western Cape, and local health-care providers. This committee will advise on the operational aspects of the study and ensure the smooth collaboration between service providers and the study team.
In addition, an international scientific advisory group of leading experts in specific areas relevant to the project will advise the study team.
The Drakenstein Child Lung Health Study and the Gates funding, says Zar, offers the chance to do the kind of detailed research on respiratory health that has not been possible up to now.
"It really is a wonderful opportunity to look comprehensively at the determinants of child health in the long term."
---
This work is licensed under a Creative Commons Attribution-NoDerivatives 4.0 International License.
Please view the republishing articles page for more information.
---