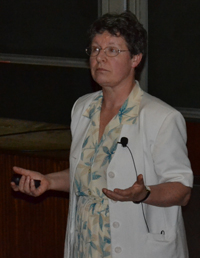 Apocalypse now? Dame Jocelyn Bell Burnell, delivered a public lecture, Will the World End in 2010?, in April.
The end of the world - Earth as we know it - is not nigh. Not for the next billion years, anyway.
So said Dame Jocelyn Bell Burnell, who delivered a public lecture, Will the World End in 2012? The lecture was hosted by UCT's Astrophysics, Cosmology and Gravity Centre and was part of the second Middle East-Africa International Astronomical Union regional meeting that took place in Cape Town from 10 to 15 April.
Bell Burnell is a visiting professor at Oxford University and a Fellow of Mansfield College. During her postgraduate research at Cambridge University, she, together with her supervisor, Anthony Hewish, discovered radio pulsars.
Misinterpretations of the ancient Mayan calendar ending in 2012 has spurred scores of opportunistic, pseudo-science citings that this would signal the end of world (a simple Google search for end of the world 2012 renders some 56 million results). The movie 2012 didn't help much, either.
Nothing sells like the promise of a pending apocalypse, right?
But what do experts say?
There is sound scientific proof that the astronomical phenomena and conspiracy theories that are cited as potential causes (solar storms, planets or asteroids crashing into earth, planetary alignments, or Earth being swallowed by a black hole) are unfounded, said Bell Burnell.
"The real threat is that people don't know enough science to realise that they're being misled."
But the end will come. In about one billion years the sun will become so hot that it will probably boil all the oceans. And in 4.5 billion years the sun will swell to about 100 times its size.
---
This work is licensed under a Creative Commons Attribution-NoDerivatives 4.0 International License.
Please view the republishing articles page for more information.
---