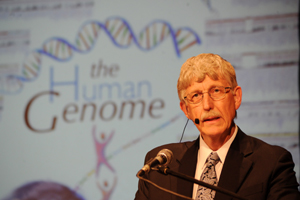 Jointly delivering the year's first Vice-Chancellor's Open Lecture on 3 March, Dr Francis Collins (left) and Sir Mark Walport (pictured below) outlined just what an amazing place the world has become since the sequencing of the human genome.
Collins started off his talk, titled Genomics and Global Health in 2011, with a quote from US politician Robert F Kennedy, delivered as part of a talk in Cape Town in 1966, about the world's "shared humanity".
"It is by the study of the human genome," said Collins, "more than perhaps anything else we've done in science, that we have learned to see with ever greater clarity that we all are part of one family, and that we are all Africans."
Collins, director of the National Institutes of Health in the US, also listed the number of projects that have sprung from the groundbreaking work in genomics. These include the International HapMap Project, which looks at patterns of human genetic variation in a small sample from four ethnic groups; and the 1 000 Genomes Project, an extension from the HapMap study that aimed to look at such genetic variation in 1 000 - that number's now jumped to around 2 500 - individuals from a greater number of population groups.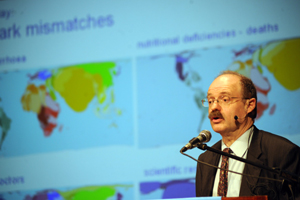 And from today, 4 March, Collins noted, researchers and funders are gathering in Cape Town for discussions of a new project that involves scientists in Africa. The Human Heredity and Health in Africa (H3Africa) Initiative sets out to boost research capacity in Africa for the study of genomics, and the link between genetic and environmental risk factors for disease. This is particularly important given Africa's burden of disease, he pointed out.
"We're shifting from the practice of removing samples from Africa and analysing them elsewhere, to building the kind of infrastructure in terms of laboratory capabilities, in terms of computational and IT efforts, to allow the research to occur here on the continent," he said.
These are enterprises that the Wellcome Trust, of which he is director, has for many years and continues to support, particularly in Africa, Walport explained in his talk. Among these is the £30 million African Institutions Initiative, incorporating more than 50 institutions from 18 countries on the continent.
"These are partnerships formed and led from the South," he said.
On the Human Genome Project, Walport spoke of the "extraordinary explosion of knowledge" in the field. He observed on the hope it offers for the treatment of diseases, like metastatic malignant melanoma, a form of skin cancer that remains virtually untreatable.
But it's early days yet, he emphasised.
"One mustn't raise excessive hope; it's a question of balancing the hype and the hope, and I think that's been one of the challenges for the genome science as a whole."
The future of genomics is as yet uncertain, added Walport. There are questions about how individuals will respond to knowing their genetic make-up, and what possible treatments will arise from the Human Genome Project.
But humans are more than just their DNA, Walport closed. As he did throughout the lecture, he argued that there are other elements, such as the environment, that must not be overlooked.
"I do think that we must recognise that we are a very complicated mixture of our genes and our environment, and thank goodness for that."
Download the podcast of these lectures.
---
This work is licensed under a Creative Commons Attribution-NoDerivatives 4.0 International License.
Please view the republishing articles page for more information.
---