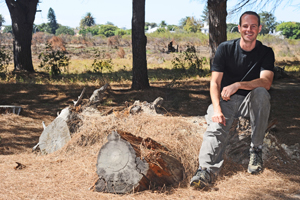 Next generation: Dr Adam West is part of an international network or researchers looking at issues of landcover change in Southern Africa. (View footage)
The "next generation of ecosystem science" is needed to solve South African, African and global questions about what the surface of the earth will look like in the next century. Scientists refer to this as "landcover", a term describing the ecosystems that cover our landscapes.
Landcover determines access to food, water and sustainable livelihoods for those living off the land, which - in case you hadn't thought about it clearly - means all of us. It also determines how fast we adapt to climate change and whether we serve to mitigate or accelerate the process.
The "next generation of science" has to include the melding of ecologists, experimentalists and systems modellers - disciplines that traditionally think in vastly different scales - with societal needs and desired economic outcomes. It also needs to continue to put South African science on the global map.
"South African scientists have led the way in several important areas of global change research," says Dr Adam West, a lecturer in the Department of Botany at UCT.
"We have unique ecosystems that are unlikely to respond in a similar manner to the more intensively studied systems in Europe and the United States. We also have important social challenges that have to be considered along with ecosystem change."
The "next generation" he speaks of has started to self-organise.
In a series of workshops held last year - funded with start-up money from the UCT Vice-Chancellor's Strategic Fund - leading researchers from within South Africa, as well as international experts, identified core areas of research needed to tackle some of the pressing issues surrounding landcover change in Southern Africa. As a result of these workshops, researchers from UCT, Rhodes University and the South African National Biodiversity Institute will now lead a network that will organise and facilitate this cross-disciplinary research.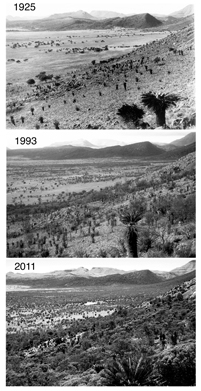 Looking back: Repeat photographs spanning over 80 years show the extent of land cover change in the Grassland Biome near Queenstown, Eastern Cape. (Photo credits: 1925, Illtyd Buller Pole-Evans; 1993, Timm Hoffman; 2011, James Puttick.)
Professor William Bond, holder of UCT's Harry Bolus Chair of Botany and an international expert on landcover change in Southern Africa, thinks that it is now or never for South Africa.
"Large changes in landcover have been documented across South Africa in the last century," says Bond. "We know this has the potential to affect the livelihoods of all South Africans. What we need now is the answers as to why and how we can influence the outcomes."
Answering these questions won't be easy. It requires doing research across the boundaries of traditional disciplines, something that many scientists feel uncomfortable with.
It also requires money. Global change experiments are not cheap. Elevated CO2 experiments in the northern hemisphere run on budgets of millions of dollars per annum. Ironically, a major cost is the CO2 used by the ton in such experiments.
Finding adequate funding locally will be challenging, admits Professor Brad Ripley of Rhodes University, but "we just have to think creatively about how to use our resources most efficiently".
Hence the formation of the "next-generation" network, where experimental planning and information sharing can be optimised.
Dr Guy Midgley, director of the Global Change Research Unit at the South African National Biodiversity Institute, agrees: "South African scientists have done a lot with a little before; however, the formation of this network will improve our effectiveness, and show government that we recognise these key challenges facing our country and are pulling together to address them."
---
This work is licensed under a Creative Commons Attribution-NoDerivatives 4.0 International License.
Please view the republishing articles page for more information.
---