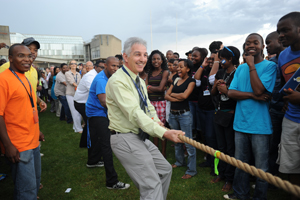 This way: Vice-chancellor Dr Max Price enjoys a tussle at the Freshers' Braai, held on campus last week, attended by hundreds of newly-enrolled first-year students.
According to UCT's preliminary size and shape targets for 2011 to 2013, set in liaison with the Ministry of Higher Education and Training, student numbers were set to hit just over 26 000 in 2013.
Now it appears that UCT will top 26 000 enrolments this year, after the university received no fewer than 33 000 applications in 2010. Given past take-up rates, UCT should have made - at an educated guesstimate - a total of 6 888 offers.
Instead, the university made close to 8 000 offers for the approximately 3 800 first-year places it had planned to make available in 2011. Accordingly, preliminary registrations suggest UCT will sign on over 26 000 students in 2011, reported Registrar Hugh Amoore last week at the university's PASS Forum. (By 2010 UCT student enrolments had reached 25 000, well over the initial target of 24 000 for the year.)
"The shape and size debate is going to be a very important one, both in Senate and in Council this year," said Amoore.
Already, early numbers show all faculties were well above their 2010 enrolments. In the Faculty of Commerce, for example, registrations had already topped 5 100 students, well above the 4 400 mark it reached at the same time last year. The Faculty of Humanities, too, has exceeded its 2010 numbers, but not excessively so (5 259 for 2011 versus 2010's 5 208).
But it all adds up, and by last count on Wednesday, 9 February, UCT had already enrolled around 1 500 students more than at the same time in 2010.
---
This work is licensed under a Creative Commons Attribution-NoDerivatives 4.0 International License.
Please view the republishing articles page for more information.
---