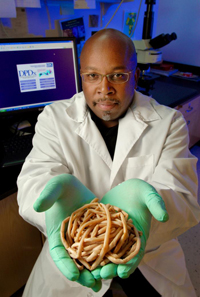 Wormy woe: A mass of Ascaris lumbricoides worms, which had been passed by a child in Kenya. (Picture courtesy of James Gathany/CDC.)
Professor Kelly Chibale, who holds the national research chair in drug discovery at UCT, has joined an international project that will 'prospect' African biodiversity to find potential treatments for diseases caused by parasitic worms. Chibale, of the Department of Chemistry and the Institute of Infectious Disease and Molecular Medicine (IIDMM), will join forces with standing collaborators Professor Timothy Geary and Dr Eliane Ubalijoro, of McGill University in Canada, who received a two-year, $1-million grant for this landmark work. This money will be shared with scientists, including Chibale, from the two African institutions (UCT and the University of Botswana) that partnered McGill University in the grant application. The funding for the work hails from the Bill & Melinda Gates Foundation, Grand Challenges Canada, and the Canadian Institutes of Health Research.
More than one billion people, or one-sixth of the world's population, suffer from Neglected Tropical Diseases (NTDs), which cause disfigurement, disability and even death in the developing world. Geary's research focuses on parasitic worms, or helminths, which live inside the body, unlike external parasites such as lice and fleas. Approximately three billion people around the world are said to be infected with helminths. (They're also responsible for massive loss of livestock productivity, Chibale points out.)
---
This work is licensed under a Creative Commons Attribution-NoDerivatives 4.0 International License.
Please view the republishing articles page for more information.
---