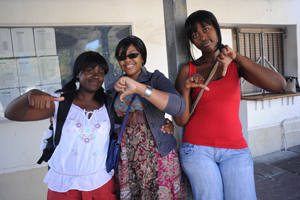 No-no: Students Samantha Malunga, Azola Qhina and Ntombi Sibiya.
Love isn't dead. Well, not yet, anyway. But according to some UCT students, it's on its death bed surrounded by relatives. Monday Paper asked students what they're doing for Valentine's Day, and this is what we heard:
Chloé Gilbert, BCom, first year
"I think I'm going to have an anti-Valentine's day to be honest. Apparently there's a group of people on upper campus who are organising a speed-dating thing for all the single people and it's going to be a huge party. The tradition is cute, but it's actually a card-selling con. And it's quite a lot of pressure, especially for the poor boyfriends having to buy the teddies."
Lara Alexander, BSocSci, first year
"I really don't enjoy Valentine's Day, probably because I'm not the boyfriend type. It's all too intense. People must be single and keen to mingle - live a little. Later we can get serious, but now we should be having fun."
Samantha Malunga, BA, first year
"It started out quite nicely, with the idea of celebrating love and everything, but it's become too corporate. People are selling love, making money out of something that should be beautiful and special. I'm ignoring Valentine's Day because my boyfriend is far away."
Hlekani Moyani, BMus, first year
"If you have someone that you really love you'll enjoy it, but if you're lonely you're not going to enjoy it so much - and this year is going to be lonely. So I'm going out with friends maybe– to find a Valentine."
Johann Durgadoo, BSc, third year
"I don't hate it - I like it - but it's too commercial. If you want to spoil your girlfriend you can do that every day. I give my girlfriend a flower whenever I want to - usually to say sorry. But I'm pretty sure girls like it because they get gifts. Guys don't get gifts - at least I never got a gift."
Takudzaanashe Matumbwa, BSocSci, second year
It's supposed to be about love but it's all about spending money. It's complicated right now because I'm not really sure if I'm in a proper relationship. But if I am, I'd probably like Valentine's more.
Tom Moyo, BCom, first year
"People trend to take love for granted as they stay longer in relationships. So it's one of those days that reminds people about the meaning of love. If I had a girlfriend I would celebrate it, but for now, I'm just going to celebrate with my boys."
---
This work is licensed under a Creative Commons Attribution-NoDerivatives 4.0 International License.
Please view the republishing articles page for more information.
---