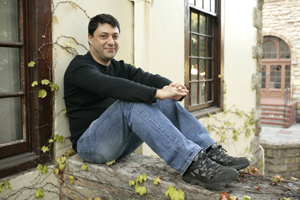 Milestone: After winning the Donald Gordon Creative Arts Award 2010, Assoc Prof Mark Fleishman produced Die Vreemdeling, his first Afrikaans language play.
In a career first, Associate Professor Mark Fleishman of UCT's Drama Department has directed his first Afrikaans production.
Die Vreemdeling, which ran at UCT's Magnet Theatre from January to February, is the result of Fleishman's Donald Gordon Creative Arts Award 2010, and is part of a larger project that has taken the production to small towns along the N7 highway, the Aardklop National Arts Festival and later this year, to the Klein Karoo National Arts Festival.
Exploring familiar South African themes such as migration, identity and xenophobia, Die Vreemdeling comments on the boundaries and fences people construct not only on the landscape but also in themselves.
But why an Afrikaans play at an English-medium university?
"Why not?" Fleishman responds, and then provides a more descriptive answer.
"The project was originally produced outside UCT for communities along the N7 highway from Okiep to Citrusdal, and these communities are predominantly Afrikaans-speaking. Also, UCT's Drama Department trains actors in English, Afrikaans and isiXhosa, and the three performers (Ephraim Gordon, DJ Mouton and Rudi Swart) are all graduates of our bilingual English/Afrikaans programme."
Fleishman describes the play as "a charming, heart-warming, bittersweet story of love and loss and the inability to move beyond our limited perspectives and prejudices".
Part of the Magnet Theatre's broader focus on migration over a number of years, Die Vreemdeling includes Fleishman's earlier (and ongoing) work, Every Year, Every Day, I am Walking, which deals with African migrants.
"There is a saying that when visiting farms you make sure to always shut the gates that you find shut," says assistant director and writer Frances Marek. "But through the story the characters start to ask the question whether that is actually such a good idea. And what would happen if you opened a gate in your heart to someone from beyond the fence?"
---
This work is licensed under a Creative Commons Attribution-NoDerivatives 4.0 International License.
Please view the republishing articles page for more information.
---