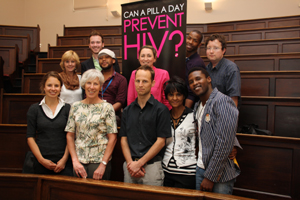 Making it happen: Researchers from the Desmond Tutu HIV centre team (back, from left) Ben Brown and Daniel Ndzuzo; (middle, from left) Christina Hosken, Lindsay Gcwabe, Assoc Prof Linda-Gail Bekker (who led the South African part of the six-country study) and Peter Chodacki; and (front, from left) Samantha Black, Lavinia Browne, Andrew Scheibe and Elize Batist, with Bongani, who participated in the study.
It's a long way from being the final word in HIV prevention, but a major study involving UCT researchers and published in the New England Journal of Medicine reveals that the daily use of an antiretroviral tablet (pictured below) as a prophylactic could curb infection among those at high risk by nearly 44%.
The findings are based on a HIV-prevention trial conducted at 11 international sites, including that of the Desmond Tutu HIV Foundation (DTHF), associated with UCT's Faculty of Health Sciences, in six countries from June 2007 to May 2010. The study, named the Pre-Exposure Prophylaxis Initiative (iPrEx), looked at the prophylactic use - so for people not infected with HIV - of a tablet that contains two widely used HIV medications, emtricitabine and tenofovir (FTC/TDF).
Results showed that high-risk individuals - men and transgender women who have sex with men - who took the tablet experienced an average of 43.8% fewer HIV infections than those who received a placebo. In all, 64 HIV infections were recorded among the 1 248 study participants who received a placebo pill, while 36 HIV infections were recorded among the 1 251 participants who received the study drug.
The iPrEx study found that this pre-exposure prophylaxis (PrEP) was more effective among those who reported taking the pill more regularly. Among participants who used the tablet on 50% or more of days, as measured by pill counts, bottle counts and self-reports, risk of HIV infection fell by 50.2%; while among those who used the pill on 90% or more of days, as determined by the same measures, the PrEP pill reduced infection risk by 72.8%.
"I think this is a very significant study in that what we have here is the first proof of concept that taking an antiretroviral prophylactically, in other words taking it before exposure to HIV, would actually prevent HIV infection," says UCT's Associate Professor Linda-Gail Bekker, deputy director of the Desmond Tutu HIV Centre.
As the tablets, brand named Truvada, are readily available, anyone can buy and use these. But Bekker is quick to point out that a lot of work still has to be done on the treatment, especially around its use outside of trial conditions. (The tablet can, for example, affect renal and liver function, so participants' kidneys and livers were monitored closely.)
Also, those recently infected and developing antibodies to the HIV, ie seroconverting, are cautioned not to take the tablet as it exposes the virus to two agents, upping the risk of building resistance to the treatment. "You may inadvertently effect or impact your chances of good treatment down the line," says Bekker.
Naturally, high-incidence countries like South Africa will take plenty of interest in the study. But at around R400 for 30 tablets, this may not be the treatment to turn things around for the country.
"It is unlikely that we will be able to treat our way out of this epidemic," said the DTHF in a statement. "We are going to have to find innovative, affordable and practical ways to stop the ongoing transmission of HIV."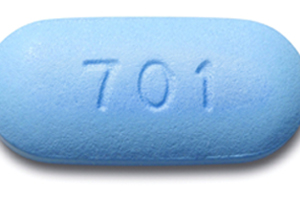 Fortunately, the study found that participants did not relax their use of safer-sex practices. On the contrary, self-reported HIV-risk behaviour decreased among participants, while condom use increased.
Prof Anna-Lise Williamson, of UCT's Institute for Infectious Disease and Molecular Medicine and a member of the South African AIDS Vaccine Initiative, welcomes the treatment as another valuable advance in curbing the spread of the disease, but remains cautious of the human-behaviour element. For one, she says, people have to recognise that they are at risk before they'll commit to the tablet.
"But it gives people options, and the more options they have, perhaps they'll find a prevention strategy that suits their lifestyles," she says. "But in the long term, I still believe we need a vaccine to prevent HIV infection."
Concerns about risk compensation - increases in risky behaviour prompted by decreases in perceived risk - will remain, says Bekker. For this, education will be essential.
Also, the tablet's use as a prophylactic will have to be but one tool in an arsenal of measures.
"We're going to have to layer different kinds of preventative strategies together to come up with foolproof prevention," says Bekker, "but it's probably not going to be dependent on only one strategy."
---
This work is licensed under a Creative Commons Attribution-NoDerivatives 4.0 International License.
Please view the republishing articles page for more information.
---