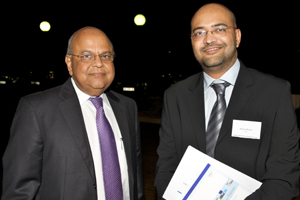 Into the future: Dr Pravin Gordhan and Prof Haroon Bhorat, director of the Development Policy Research Unit, had plenty to discuss at the recent conference on South Africa's recovery from the recent global economic crisis.
The recent financial crisis has done few any favours, least of all South Africa with its already tricky socio-economic dynamics.
So there was plenty to discuss at The Global Economic Crisis and South Africa: Lessons in Long-Run Economic Growth and Development, a conference hosted by UCT's Development Policy Research Unit, the Employment Promotion Programme and Trade & Industrial Policy Strategies in Johannesburg at the end of October. Over the event's three days, academics, researchers and policymakers explored complementary debates around ensuring a balanced recovery in the aftermath of the global financial crisis.
One of the key focuses of presentations and discussions was employment and the need to find innovative solutions to the two challenges of unemployment and service delivery. Conference participants included lead economists from the World Bank (WB) and the International Labour Organisation (ILO).
Among the speakers was Paulo Vieira Da Cunha, a partner in Tandem Global Markets, who talked on Brazil's macroeconomic experience and the lessons that could be passed on to South Africa. Along the same lines, Sergio Schmukler discussed the role of the formal retail banking industry in SME growth and development, using Latin American examples in particular.
Minister of finance, Dr Pravin Gordhan, was the main speaker at the conference dinner, where he challenged the academic and research community to delve deeper into issues around South Africa's future growth path and the effectiveness of implemented policies on the ground.
---
This work is licensed under a Creative Commons Attribution-NoDerivatives 4.0 International License.
Please view the republishing articles page for more information.
---