Physicist Dr Amanda Weltman and Dr Floretta Boonzaier of the UCT Psychology Department are both recent achievers at the Department of Science and Technology's South African Women in Science Awards.
Dr Weltman was named the Best Emerging Scientist in 2009, an award which recognises a young scientist for an outstanding scientific contribution in natural sciences or engineering, while Dr Boonzaier was the runner-up this year in the category Distinguished Young Woman Researcher in the Social Sciences or Humanities.
The awards are part of the Department's efforts to increase the number of women scientists and researchers in the country, to increase women's access to research professions in the country, and to profile successful scientists and researchers as role models for younger women and girls.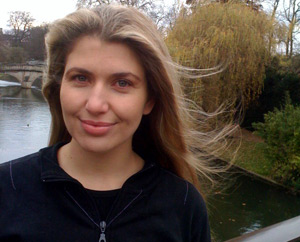 Physicist Weltman, who has received fellowships from Columbia University in the US, Cambridge University in the UK and NASA, is the co-author of two papers proposing the chameleon mechanism (in which scalar fields change depending on their environment), one of the hottest new topics in contemporary theoretical cosmology.
With an interest in gaining an understanding of the forces underlying the dynamics of our universe, she describes research as always having been a passion of hers, and says that UCT offers her support to pursue this passion so that its full benefit can be extracted.
"UCT has an excellent research office, with very supportive staff who are always available and willing to support the research efforts of their members. The Dean of the Science Faculty, Professor Kathy Driver, values research very highly and offers tremendous aid. This is very valuable, and I'm not sure that as a female researcher I have felt any gender bias," Dr Weltman says.
She encourages young women to enter research, and says the natural skill set that women have can be of great value in research in the sciences. She refers specifically to intuition and creativity, and the consequent innovation that these traits allow.
Dr Boonzaier completed her PhD at UCT in 2005; her work focuses on the psychological dynamics of intimate partner violence against women, and she recently returned from a fellowship at Harvard University where she spent time at the WEB du Bois Centre as a Mandela Fellow.
She believes having the right institutional support, specifically mentor relationships, has been an important part of her development. She cites UCT's various research initiatives as facilitating the development of young academics, particularly in their research careers.
An example of this is UCT's Emerging Researcher Programme, which involves ongoing individual consultations with senior research scholars, as well as a seminar programme covering important research-related topics.
She is driven by her belief that research has the ability to make a substantial, positive difference.
"Beyond conducting research for the sake of producing knowledge, it is important to see the research in action. The idea that research can have practical value is what drives me."
---
This work is licensed under a Creative Commons Attribution-NoDerivatives 4.0 International License.
Please view the republishing articles page for more information.
---