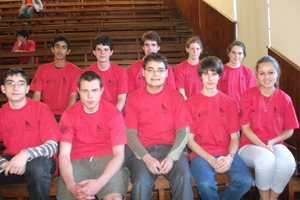 The winning Western Province senior team: (From left, back) Ashraf Moolla (Rondebosch Boys' High School), Sean Wentzel (Westerford High School), Greg Jackson (Bishops), Ashleigh Avenant (Westerford High School), and Kira Dűsterwald (Springfield Convent). (From left, front) Robert Spencer (Westerford High School), Francois van Niekerk (Bellville High School), Charl du Plessis (Stellenberg High School), Kieran Davies (International School of Hout Bay), and Melissa Greeff (Herschel High School).
UCT's Department of Mathematics and Applied Mathematics hosted both the Western Province and Boland teams for the annual Interprovincial Mathematics Olympiad (IPMO) in September, the Western Province senior A team, trained at UCT, taking the laurels.
The IPMO has been a regular annual event since 1990. Teams of ten from different provinces meet in various centres in friendly competition. The IPMO has junior (up to Grade 9) and senior (Grades 10 to 12) divisions.
This year's IPMO was also contested by teams from the Eastern Cape, Free State/Northern Cape, Gauteng North, Gauteng South, KwaZulu-Natal Coast, KwaZulu-Natal Midlands, and KwaZulu-Natal North Coast. Many provinces entered more than one team in each section, bringing the total to 21 junior and 16 senior teams.
"There was a lot of friendly rivalry," said UCT's Professor John Webb. "Performance in the UCT Mathematics Competition, held in April this year, was a major factor in the team selection for the Western province and Boland teams."
In the junior section, the Free State/Northern Cape team came out on top with 1 566 points out of a possible 2 000, followed by Boland (1 485) and Western Province (1 386).
In the senior section, Western Province A headed the rankings with 1 267 points, followed by the Western Province B team (1 159) and Gauteng North (1 150).
---
This work is licensed under a Creative Commons Attribution-NoDerivatives 4.0 International License.
Please view the republishing articles page for more information.
---