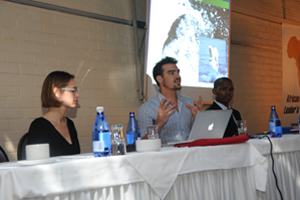 Hot topic: (from left) Dr Gina Ziervogel and Max Thabiso Edkins (with session chair Wandile Mamba) addressed delegates at the African Student Leaders Summit on the challenge of global warming.
Climate change isn't coming - it's already here, and we have no option but to adapt to the future.
This was the message from speakers at the African Student Leaders Summit session on global warming in September.
In a discussion titled Sustainable Development: Issues of global warming, the environment and its impact on Africa, Max Thabiso Edkins of UCT's Energy Research Centre and Dr Gina Ziervogel of UCT's Department of Environmental and Geographical Science addressed global warming, its impact and solutions to the accelerating crisis.
Although naming climate change the biggest single threat to development and poverty alleviation, Ziervogel noted that climate change wasn't necessarily bad for everyone, because while some areas flood, others may be relieved of drought, she argued.
"Although global emissions are mainly from developed countries, the impact is mostly felt in developed nations," noted Ziervogel. "Therefore, our adaptation - our process of deliberate change in anticipation of the impacts of global warming - needs to support those who are most likely to be affected by the change."
Ziervogel stressed the need to develop informed responses by getting stakeholders and communities to integrate local knowledge and experiences with scientific information.
"We need to strengthen our skills and partnerships so that we can work together to convey this complex message, said Ziervogel.
Echoing Ziervogel's call for adaptation, Edkins said: "We now have to deal with a world that has become increasingly difficult to live in, and have to act now to free ourselves from fossil fuels and to improve energy efficiency."
Edkins' suggestions included localised rather than centralised electricity production, an efficient public transport system, electric cars, and renewable energy sources, such as solar and wind power - both available in abundance in South Africa. But at the moment, warned Edkins, South Africa is falling behind in addressing global warming.
"If we want to become market leaders, we have to get into the market early," he said.
"Businesses will lose out if people perceive their product or service as polluting."
"It is far better to be proactive than reactive to the market that is already developing out there," said Edkins.
---
This work is licensed under a Creative Commons Attribution-NoDerivatives 4.0 International License.
Please view the republishing articles page for more information.
---