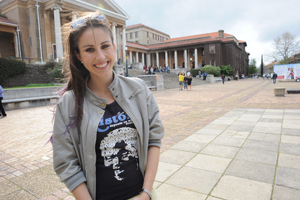 Student-friendly: Independent candidate Kathleen Taylor surprised herself - and perhaps others - by winning the most votes in the SRC elections.
The Democratic Alliance Student Organisation (DASO) pipped the South African Students Congress (SASCO) to win the most seats in a tightly-contested 2010/2011 Students' Representative Council (SRC) elections.
Of the 15 SRC seats, DASO won six to SASCO's five, according to the results released on 31 August. Three seats went to independent candidates, and the Students for a Democratic Society (SDS), who contested the polls for the first time, managed just one.
The election poll this year was 38%, slightly lower than the last year's 42%, but way over the 25% requirement of the SRC Constitution.
The winners, in order of the number of votes received, are: Kathleen Taylor (independent), Khanya Gwaza (SASCO), Amanda Ngwenya (DASO), Mike Ramothwala (SASCO), Jess Price (independent), Aboo Kalla (SASCO) , Kim Senogles (independent), Inshaaf Isaacs (SASCO), Lethu Shange (SASCO), Mark Schoeman (DASO), Sean Darge (DASO), Vimbiya Parrafin (DASO), Alexander Spoor (SDS), Kodwa Cengimbo (DASO) and Ross Hare (DASO).
These results were declared as final after there were no objections by midday on 31 August, and the current SRC president, Sizwe Mpofu-Walsh, will convene a seat-allocation meeting within 10 days. The new leadership takes office in 1 November. September and October will serve as a handover and induction period.
The 'win' - she's in no ways guaranteed the position of president, however - came as a "pleasant surprise", says Taylor, 20, a third-year business-science student. She ran as an independent partly in response to her previous experiences on Student Parliament, she says. "I was frustrated by the fact that the discussions centred on internal conflicts among groups rather than on what was relevant to all students." Her platform, then, was to represent students beyond particular interest groups, and to run a student-friendly campaign.
---
This work is licensed under a Creative Commons Attribution-NoDerivatives 4.0 International License.
Please view the republishing articles page for more information.
---