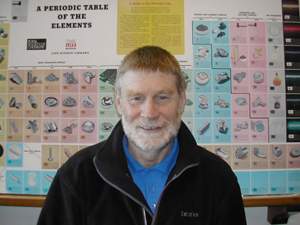 The UCT community and particularly the Department of Chemistry, has been dealt a blow with the passing of Emeritus Professor John Moss, aged 66, on 30 May 2010. Moss had been an academic staff member at the department since his appointment as a senior lecturer in 1979. In 1995, he was appointed as the Jamison Professor of Inorganic Chemistry, a position he held until his retirement in 2008.
Professor Allen Rodgers, head of the Department of Chemistry, notes that Moss was a person with rare attributes in terms of his strength of character, work ethic, commitment, dedication, collegiality and courage. When faced with what most people would regard as an insurmountable challenge, he never saw it as such, said Rodgers.
"To him, these so-called challenges were merely hurdles which had to be faced, negotiated, surmounted and resolved," Rodgers explains.
Moss's professional achievements in teaching, research and administration, as well as his sporting achievements in mountaineering and sailing, bear testimony to a remarkable strength of character with which few people are blessed. He was awarded Fellowships from the Royal Society of Chemistry and the Royal Society of South Africa, and a Lifetime Fellowship from the University of Cape Town. His research work has been published in nearly 300 scientific papers, review articles, book chapters and conference proceedings, all of which have attracted over 2 000 citations.
For a full obituary by Professor Allen Rodgers, head of the Department of Chemistry, click here.
---
This work is licensed under a Creative Commons Attribution-NoDerivatives 4.0 International License.
Please view the republishing articles page for more information.
---