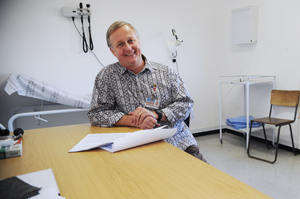 Room to grow: The Primary Health Care Directorate's Frank Molteno in one of the consultation rooms in the new Retreat Student Learning Centre, where health sciences students will learn their craft.
The Faculty of Health Sciences has officially launched a new student learning centre in the Cape Flats suburb of Retreat, where students will work and learn in the kinds of health-care conditions they will probably run into often during their careers.
The new Retreat Student Learning Centre is just the second such teaching and learning facility set up by the faculty's Primary Health Care Directorate in surrounding Cape Town communities. It follows in the wake of the Vanguard Student Learning Centre in Bonteheuwel, while a third will shortly be opened in Hanover Park. (UCT students are also placed in Mitchell's Plain and Khayelitsha, although there are no learning centres there.)
By comparison with the spacious Vanguard set-up, the Retreat centre is modest; a small, revamped wing of the Retreat Community Health Centre, it holds four consultation rooms and a fifth room, kitted out with three PCs, that acts as a resource centre.
If the centre is short on space and frills, not so are the faculty's ambitions for it.
With most training opportunities confined to large hospitals such as Groote Schuur, the faculty has to look elsewhere for students to get more appropriate clinical training. And in such community-based learning centres they not only learn from their immediate tutors, but also from the patients and other staff.
"We need these kinds of learning centres because we cannot train our future health professionals only in hospitals without them being able to work with patients at community level, and with communities around Cape Town and beyond," says Frank Molteno, clinical-teaching platform co-ordinator at the directorate. "With a health care system slowly but surely re-organising itself along primary health care lines, it is vital for students who are being prepared in the first instance as generalists to gain experience, both in clinical and public health terms, of working at a primary level in and with communities - particularly those less well-served by state and private health care services."
One tenet of UCT's model of community-based education is that students must be versed in the health needs of entire communities, not just of those of selected groups of patients they might see at tertiary or secondary hospitals.
"We want to make the community the focus of learning, the equivalent of the lecture venue for students," notes Professor Steve Reid, director of the Primary Health Care Directorate and holder of the UCT chair in primary health care. "And we want them to be able to work across the whole spectrum of health facilities in the teaching platform."
The service is also a boon to the community centres that they are based in. "This partnership with UCT is a plus for the Retreat Community Health Centre," says Cyril Jacobs, chairperson of the Retreat Community Health Committee. "And we really appreciate any investment that can benefit the community."
And with the directorate planning more such learning centres, soon a few other communities may also benefit from having young health-professionals-in-training within reach.
---
This work is licensed under a Creative Commons Attribution-NoDerivatives 4.0 International License.
Please view the republishing articles page for more information.
---