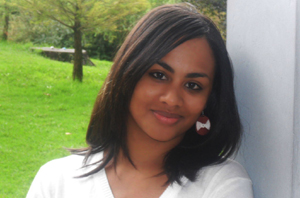 Up and coming: Graduate Amy Jephta.
Twenty-two-year-old UCT graduate Amy Jephta is the first recipient of the recently-created Emerging Theatre Director's Bursary, which allowed her to produce, direct and extend Kitchen, an original student work, into a full-length play.
Funded by the Theatre Arts Admin Collective (TAAC) in partnership with the Baxter Theatre Centre and Gordon Institute of Performing and Creative Arts, the new bursary enables emerging theatre directors to keep working and develop their craft.
"The bursary was created in response to the lack of opportunities theatre directors face, and to empower them while offering them an entry into professional theatre," said director of TAAC Caroline Calburn.
The bursary is also aimed at affirming directing as a prospective career choice and creating a space for emerging directors to work with a mentor.
"The mentorship programme connects emergent and established directors to each other, ensuring a transfer and exchange of knowledge and skills," explains Calburn.
Jephta was awarded the UCT drama school's theatre-maker of the year class medal in 2009, and received the Artscape High School Drama Award for Best Script, the Mary Livingstone Short Story Award, the PANSA 48-Hour Festival Award for Best Script, and the Woordwees Drukkoker award for best short Afrikaans play.
Structured as a series of three short playlets, each with its own title, Kitchen explores the ways in which silence manipulates, tortures and drives human beings to the brink.
"We say the most when we aren't speaking," says Jephta. "In the silences between words we are at our most vulnerable and we reveal our most naked selves. It is in the pauses that we really exist."
Kitchen runs at Theatre Arts Admin Collective in Observatory for one week only, from 18 to 22 May. To book, call Nokulunga Mateta on telephone 021 447 3683, or email Arts Admin.
---
This work is licensed under a Creative Commons Attribution-NoDerivatives 4.0 International License.
Please view the republishing articles page for more information.
---