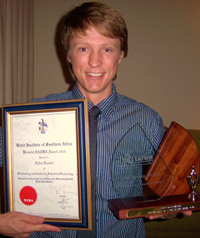 Safe water: Dyllon Randall has adapted a technology to treat waste-water streams from mines.
Dyllon Randall's doctoral work on eutectic freeze crystallisation has netted the prestigious Industrial Water Division of the Water Institute of South Africa/South African Industrial Water Association Biennial Award for his outstanding contribution to industrial water technology.
His research is also likely to contribute to making the mining industry - a key player in the South African economy - not just more profitable, but also more environmentally friendly.
The technology being researched is used to treat mine-water waste, specifically that coming from waste water in the coal mining industry. It involves taking waste water and cooling it down until ice and salt form at the same time.
"The technology shows that we can reduce the amount of waste by up to 97%, and produce potable water (that can be sold to the nearby communities), pure calcium sulphate and pure sodium sulphate," explains Randall, a researcher in the Crystallisation & Precipitation Unit.
"This may not be the cheapest treatment method at the moment, but it is definitely a sustainable one. It solves the problem of waste water generation now, rather than leaving it for future generations to solve."
A pilot plant is being designed, and it is planned to be up and running some time next year.
Last year Randall won the prize for best student paper at the International Mine Water Conference.
---
This work is licensed under a Creative Commons Attribution-NoDerivatives 4.0 International License.
Please view the republishing articles page for more information.
---