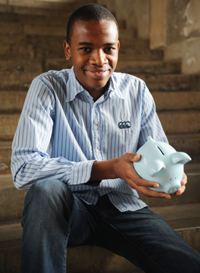 Penny pinching: Second-year student Tsepo Serakalala is the brains behind InvestSoc's Managing Your Money project.
Second-year chemical engineering student Tsepo Serakalala has his sights set on more than the laboratory. An entrepreneur in the making, he is the brains behind Managing Your Money, a new project by InvestSoc aimed at educating students about personal finance and budgeting.
The project was motivated by Serakalala's recent survey among InvestSoc members, which revealed that students don't save, don't budget and have little knowledge of money management.
"Many students just scrape through every month, without even thinking about money management," says Serakalala. After his appointment to InvestSoc's executive committee, Serakalala put his plan into action.
With support and sponsorship from Nedbank, Serakalala organised a series of two-day interactive seminars presented by Nedbank's financial planners, offering students practical advice and answering questions on topics such as monthly money management, credit records and even planning for retirement.
Seminars were split into those catering for first- and second-year students, which addressed more immediate issues such as managing bursary money, and those catering for third- and fourth-year students, which dealt with the financial challenges many will face in the not-too-distant future.
Notoriously cash-strapped senior undergraduates learnt about salary management, investing and buying a car and real estate.
"It's never too early to start building your Trump fortune," quips Serakalala.
---
This work is licensed under a Creative Commons Attribution-NoDerivatives 4.0 International License.
Please view the republishing articles page for more information.
---