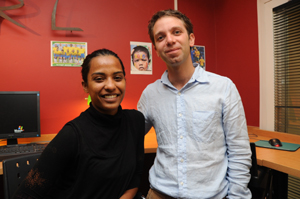 Greenies: Sakina Grimwood and Tom Herbstein produced the second report of the Sustainable Kramer project, which outlines its savings and benefits.
Over R60 000 in energy costs have been saved and 112 tonnes of C02 emissions eliminated annually in the Kramer Building on UCT's middle campus - thanks to a green-friendly project jointly funded by UCT's Faculty of Law and the Properties and Services Department.
The Sustainable Kramer programme, which has just completed its second phase, has shown a return of as much as 580% over a five-year period - R303 000 for a total investment of R46 000, according to the faculty's recently-released second report.
These results follow the first Sustainable Kramer Project Report in 2008, which identified changes that could be made in energy consumption, water use and waste.
The second phase followed through on these recommendations, including retro-fitting over 500 fluorescent lights in public areas with more energy-efficient systems, and installing 12 motion sensors in classrooms to prevent lights being on while unoccupied.
Further green-conscious measures addressed waste and water consumption. Two custom-built recycling depots were installed, and printer and fax cartridges were collected for recycling. To save water, aerators were fitted on toilet taps and waterless urinals were introduced.
To encourage participation and support, the project was backed by a solid awareness campaign. With every change made in Kramer building, a poster was put up to inform users. Newsletters were sent out regularly to Kramer staff, and several seminars were held.
"The Sustainable Kramer project has enabled many positive interventions," says Tom Herbstein, who produced the second report with Sakina Grimwood.
"It has allowed space for trial and error, yet it has been a great success. By adapting the building to become more sustainable, both environmentally and economically, the project proves that a faculty at UCT can proactively address its own contribution to the sustainability crises on campus. Going green isn't just a job for the engineers, but can be done by us all."
---
This work is licensed under a Creative Commons Attribution-NoDerivatives 4.0 International License.
Please view the republishing articles page for more information.
---