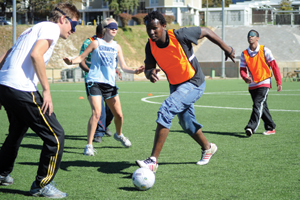 Blind side: Maximilian Huber of the SHAWCO team tries to stop Jongikhaya Guzana of the LoFoB team, while blindfolded Lisa Wallace (SHAWCO) and Stanley Rhodes (at back) try to keep track of the game.
With a morning of blind soccer (aka futsal) on Saturday 1 May, UCT Disability Services made a bid to champion disability sport once more, highlighting the role that it plays in the lives of people with disabilities at UCT.
For this occasion, Disability Services teamed up with Sport & Recreation, the Students' Representative Council and the League of Friends of the Blind (LoFoB), a Cape Town-based community organisation. In addition, the likes of the Students' Health and Welfare Centres Organisation (SHAWCO) and Graça Machel Hall fielded teams on the day.
"The aim was to create awareness around disability issues generally, but also to focus on bringing disability sports into the mainstream of the sporting environment, especially at a place like UCT that's so involved in sports," said Nafisa Mayat, disability advocacy co-ordinator at Disability Services. "And we wanted to create awareness that people with disabilities are involved in sport, and that they're out there playing these sports."
The event also allowed a few UCT students to get a sense of what it means to be blind, donning sleeping masks to level the playing fields, as it were. The game, normally played indoors, was even trickier on this occasion, as players struggled to hear the ball - fitted with a bell - on the soft Kopano turf.
"It was a strange experience, and I was quite lost at times," said SHAWCO player Maximilian Huber.
For the likes of Jongikhaya Guzana and Sirjel January of the LoFoB team - both competitive soccer players until they lost their sight - it was fun to be back on a pitch.
"I used to wonder how I was going to play football again, and this has given me the chance to do so," said Guzana.
"It's more fun to play now, because it's not so competitive," added January.
---
This work is licensed under a Creative Commons Attribution-NoDerivatives 4.0 International License.
Please view the republishing articles page for more information.
---