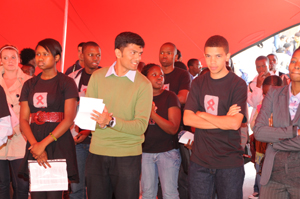 Taking a stand: SRC members Michell Mpike, Saif Islam and Sizwe Mpofu-Walsh supported a campaign to combat the stigmatisation of HIV-positive people at UCT.
"The thing is they may not treat me as they are treating me now if they find out that I am HIV-positive."
This was one of the comments by a UCT student living with HIV, and read out at the Candlelight Memorial Concert on 15 April. The concert was hosted to commemorate those who have died of HIV/AIDS, to support those living with the virus, and to recommit the university to eradicating the stigma surrounding the disease.
Another student broke down "disease" to "dis-ease", explaining, "relationships are not at ease; families are not at ease; communities are not at ease. The media has stories where people hurt each other because of this dis-ease".
The fact that the students were not comfortable addressing the audience themselves indicated clearly that they don't have a voice, said Students' Representative Council (SRC) president, Sizwe Mpofu-Walsh.
He said that while the university was making strides in the fight against the pandemic (a newly-released National Higher Education HIV prevalence study indicates that HIV prevalence at UCT is lower than 0, 2%), people should not be complacent, and should set an example, not only for South Africa, but for the entire world.
Another SRC member, Michell Mpike, urged students to watch their language and avoid stigmatising words.
Deputy vice-chancellor Professor Crain Soudien reminded staff and students that they are privileged to work and study at a university where people think about the betterment of society. Everyone bears the responsibility of combating stigmatisation, he said.
Vice-chancellor Dr Max Price said it was concerning that in the survey some students reported having concurrent sexual partners and not using condoms.
But the study also carried good news for the country in terms of infection rates and the number of students who have tested, Price said. Two faculties at UCT have compulsory, examinable courses on HIV/AIDS in their curriculum, and two more are set to introduce these courses this year.
---
This work is licensed under a Creative Commons Attribution-NoDerivatives 4.0 International License.
Please view the republishing articles page for more information.
---