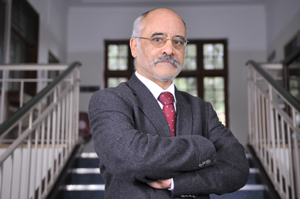 New guard: "...situations arise where individuals are, in a sense, required to step forward..." - Prof Crain Soudien, UCT's new deputy vice-chancellor.
The full gamut of transforming an institution like UCT is the responsibility of all, and not one championed by a single department or portfolio, says new deputy vice-chancellor Professor Crain Soudien, appointed for a five-year term as of 1 April.
His portfolio includes the cluster of activities that support UCT's transformation strategy.
"My responsibility is essentially for opening up the question of transformation and helping the university think through the challenges, what we are doing correctly, and where there are challenges to work through, how we can get beyond them," says Soudien.
"My personal mission is to get many more people to see this as part of their responsibility. We need to see transformation as a shared responsibility, and not something that people like me should be carrying alone."
Soudien will be accountable for the social justice portfolios, such as HIV/AIDS, discrimination and harassment issues, and disability services; the Institutional Forum; employment equity; student demographic change; student financial aid policy; transformation, and stimulating research and debate around the meaning of transformation.
"I didn't set out to become a DVC but situations arise where individuals are, in a sense, required to step forward," he says. "I have stepped forward and taken on the challenge of thinking through what change means for us. Daunting as it is - the 'poisoned chalice', as some would put it - I would like to think that it's a moment of real opportunity for us. As an organisation whose main business is working with knowledge, we are historically positioned in relation to established bodies of knowledge - anthropology, sociology, to name but a few - to be making big contributions. But we are also called upon, at a time when race is such an inflammatory subject, to demonstrate what civility - a recognition of each other simply as human beings - might mean. The opportunity is theoretical, but also profoundly practical. How we practice what we preach is an important task we have ahead of us."
As a sociologist of youth, Soudien has followed the process of development of young people in the institutions of the family, the school and the university. A recognised authority on transformation, and author of the widely-publicised Soudien Report, he has published more than 60 articles in refereed journals, and 60 book chapters. He speaks and consults widely and serves in a number of positions on important national and international bodies such as the Ministerial ReviewCommittee into Transformation in Higher Education, which he recently chaired. He has received numerous awards during his career, including a Fulbright Scholarship.
"There have been many highlights in my career, says Soudien. "The most significant must be having been elected as the President of the World Council of Comparative Education Societies. Having been asked to play the role of a DVC is another."
He joined the School of Education at UCT in 1988, and served as acting deputy vice-chancellor for a full year.
"This prepared me immensely," says Soudien." Despite having been at the university as a student and lecturer for more than three decades, I didn't fully understand what the university experience really means. Having interacted with colleagues in Financial Aid and in the residence system in the past year, it is clear that the quality of the student's experience depends on a range of invisible services, relationships and networks, and that what we don't do enough in the university is to stitch together the different elements making up the institution."
Speaking after Soudien's appointment, vice-chancellor Dr Max Price said: "As acting deputy vice?chancellor since April 2009, Professor Crain Soudien has demonstrated a high level of expertise and insight into the challenge of advancing social justice in a university environment.
"This applies to equality not only between people of different race, but also between those of different gender, language and culture, and sexual orientation. With this appointment, we can look forward to the continued advancements he will bring to this vital area."
---
This work is licensed under a Creative Commons Attribution-NoDerivatives 4.0 International License.
Please view the republishing articles page for more information.
---