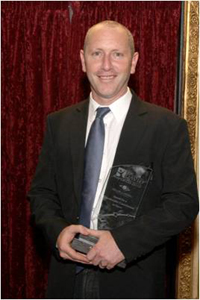 Professor Wayne Derman's pioneering work and remarkable contribution to sport and sports medicine was recognised when he scooped a top accolade in the David Awards 2010.
Derman, a professor of sports science and sports medicine at the Sports Science Institute of South Africa, won the Blue Label Telecoms Award for his Considerable Contribution to Sport, along with Dr Shane Dorfman, a karate world champion.
The awards acknowledge the contributions of former learners of Hillel and King David schools. (UCT vice-chancellor Dr Max Price was nominated for the Investec Award for a Considerable Contribution in a Career/Profession, a category won by Adrian Gore, chief executive of Discovery Health.)
Derman's career has focused on the research, teaching and clinical service of sport medicine, making a considerable local and international impact. He has served as chief medical officer for the South African team to the Sydney 2000 Olympics and the Athens 2004 Olympics and, in 2008, as medical officer for the South African Paralympic team to Beijing.
"When I started on this career, it was a lesser-known discipline and speciality within the field of medicine," he explains. "I have enjoyed being one of the pioneers, and am passionate about my chosen career."
Derman dedicated his honour to his parents and former school and teachers "who tried their best to prepare me for the future".
Personally, Derman intends to develop as a leader, teacher and clinician, and to plough his expertise into producing some of the finest sports physicians, biokineticists and exercise scientists. He predicts that sport and exercise medicine, and particularly the use of exercise in the management of patients with chronic disease, will become the "medicine of the future".
---
This work is licensed under a Creative Commons Attribution-NoDerivatives 4.0 International License.
Please view the republishing articles page for more information.
---