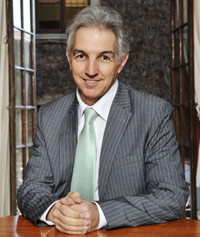 In October 2009 vice-chancellor Dr Max Price called for proposals to expand the range and impact of activities that would advance UCT's vision and strategic plan. The Vice Chancellor's Strategic Fund, worth R20 million annually, had been set up as a new, competitive source of funding to support such efforts. These funds are to be allocated each year by a specially-established review committee consisting of the vice-chancellor and deputy vice-chancellors.
In the first round of consultations, which ended in November 2009, the Vice-Chancellor's Strategic Fund attracted 80 proposals, requesting more than R100 million for 2010, and over R225 million for the four-year time-frame.
After careful consideration of the submissions, all interesting and of high quality, and using the assessment criteria set out in the original call for proposals, the review committee prioritised 29 proposals that it felt best represented the valuable contributions made by the university in various spheres, and which it felt would come closest to achieving the goals set out in UCT's strategic plan.
Not only did applicants have to demonstrate that their projects were aligned with the university's strategic objectives, they were asked to set out the detailed outcomes of their projects. In addition, they were asked to provide business plans illustrating sustainability, and evidence of innovation and collaboration.
Project managers for a further seven proposals from the Faculties of Commerce and Science, which focused on climate change, were invited to discuss possible collaborations, and were awarded a total of R2 million for their projects.
All successful applicants were required to submit detailed budgets to ensure that the Vice-Chancellor's Strategic Fund falls in line with the institution's fiscal policy. As part of this process, applicants will be required to submit financial reports in September 2010 and March 2011.
Furthermore, the project managers were asked to provide summaries of their projects, part of the vice-chancellor's report to the UCT community on the progress achieved vis-a-vis the strategic objectives. It is likely that successful applicants will be profiled on Vula. Social networking mechanisms will also be investigated as vehicles for the exchange of ideas.
Funded projects include
All Africa House Academic Fellowships
These will build teaching capacity in African universities. The fellowships will attract senior and young or mid-career academics of high standing from the rest of Africa to spend time at All Africa House, developing their teaching materials or writing up completed research for publication.
A UCT Response to Crime and Violence
Violent crime stands at the nexus of two related domains, violence and criminality. Unless these causes are dealt with, South Africa will always experience high rates of violence. This project draws together a core of researchers from different faculties to develop a UCT response, in the form of a peer-reviewed paper, policy briefs and a larger proposal for a research study.
Child Health in Africa: The African Paediatric Fellowship Programme
The African Paediatric Fellowship Programme's goal is to promote child and maternal health in Africa. It will do this by developing African health professionals through training and integrated educational networks. The aim is also to enhance expertise among African health professionals and build African capacity in child health.
Building Capacity in the Conduct and Analysis of African Social Scientific Data: Improving the quality of teaching and research in quantitative social science
This funding allocation will help UCT train social sciences postgraduate students in quantitative methods and evidence-based research, and will assist in the production of internationally competitive analyses of African social scientific data, by creating two positions in the Faculty of Humanities for staff who can teach statistics and quantitative social science research methods at postgraduate level.
Investing in Afropolitan Research on Governance and Democracy: The African Legislatures Project
The African Legislatures Project (ALP), co-ordinated by the CSSR's Democracy in Africa Unit, is a pioneering attempt to subject Africa's national political institutions to systematic comparative study. By providing explicit support for ALP, in the form of two additional country studies (13 have been completed or are under way), this additional funding will strengthen UCT's international research profile and underpin the university's efforts to become an intellectual hub for the study of African governance and democracy.
Centre for African Origins
This initiative will bring together expertise, equipment and excellent young scholars from across the continent to research the evolutionary processes underlying human diversification, early tool use and resource exploitation, diet and settlement patterns, African community structure and metallurgical practices.
Global Health Initiative
The grant will support the establishment of a UCT Global Health Institute focused on health inequity in South Africa and the rest of Africa. By harnessing the capacities of a range of individuals and disciplines with interest and experience in aspects of global health, the institute will develop an academic agenda of research, education and networking to address global health inequities.
Marine Multi-scale Data and Models: the key to predicting climate variability in Africa and its biological and social consequences
The Southern Hemisphere is dominated by oceans, yet there are huge gaps in understanding the ways in which the ocean controls climate and weather patterns. This project will develop a system of marine data collection and integration into models, working towards being able to project ocean conditions (both physical and biological) at the seasonal time scale that in turn will allow coupled ocean-atmosphere models to generate better seasonal weather and rainfall projections.
Mobile Voices
The goal of this initiative is to investigate the role of ICT in developing Africa and create new forms of ICT that will support development goals. The plan is to create new mobile services and technologies that will directly benefit previously under-served African communities. To achieve this goal, the group will build a network of researchers from disciplines such as Film and Media, Computer Science, Linguistics, Civil Engineering, Social Anthropology, Information Systems, etc.
On-line Teaching French as a Foreign Language MA
In 2011 the French Section plans to offer an on-line version of the in vivo coursework master's with minor dissertation in parallel. Five modules will be taught on-line, using the asynchronous distance technology offered by VULA. This is expected to open the course to a wider pool of students, allowing practising teachers of French to retain their positions and further their studies at the same time.
Web Renewal Project
The Web Renewal and Enterprise Content Management (ECM) Programme will address UCT's content management needs. This programme will define strategies and use appropriate methodology and tools to capture, manage, store, preserve and deliver content and documents to the various UCT constituents.
UCT/AAU Academic Staff Exchange opportunities
More promising African academics can visit UCT through the AAU Academic Staff Exchange Programme, which offers partial financial support for this purpose. The programme offers about six opportunities a year for individual African academics to spend time at UCT. The project will run for one calendar year. The grant will stretch individual stints from between one and three weeks to four weeks.
Research and Development Work in Language and Literature Study
The Reading and Writing (R&W) journal, edited by Associate Professor Mastin Prinsloo of the School of Education, will be developed to counter the critical shortage of quality research in the field of literacy studies in South Africa, and a dearth of publishing outlets for literacy-focused research in Southern Africa. The journal will nurture a multi-disciplinary tradition of quality research in a neglected field and provide a developmental role for emerging researchers and educator-researchers in this field.
Postgraduate Student Support
The funds will be added to the UCT Master's Merit Scholarship Fund to address the increase in applications for support from local master's students.
Centre for Astrophysics, Cosmology and Gravitation
With opportunities offered by SALT, MeerKAT and the Square Kilometre Array, which South Africa aims to host, the country is at the beginning of a golden age in astronomy and cosmology. To reap the benefits, the new Astrophysics, Cosmology and Gravitation Centre has been established, consisting of the Department of Astronomy and the Cosmology and Gravity Group in the Department of Mathematics and Applied Mathematics as its core members.
Developing Leadership for Disability Inclusion in Social Policy Processes: Enhancing teaching and research to promote graduate qualities of social justice and global citizenship
The UCT Disability Studies programme focuses on teaching, research and policy development on disability in Africa. Initially, the Disability Inclusion project will work with the Faculties of Health Sciences, Humanities and Engineering & Built Environment to review how disability is situated within broader social theory in teaching and learning - and its relevance to curricula in higher education.
Teaching for Social Justice: Diversity literacy capping course
A new course, Diversity Literacy, will be offered as an elective to senior students across UCT faculties to help them function effectively in social and work contexts that are characterised by diversity. The course curriculum will provide students with conceptual tools to reflect on complex social issues such as inequality, identity, power, and difference.
Science Shop pilot project
This pilot project will lay the foundations for a sustainable facility, 'a shop front' that will act as bridge between society and the university. The 'shop front' will mediate between the two constituencies by reformulating questions from civil society organisations or communities into manageable research projects.
Technology Deployment for Sustainable Urban Development
This grant to the EBE faculty will underpin work that will describe and demonstrate development paths for a key sector of the informal economy in African urban settings: street catering. The central problem is the use of open fires in informal economy street catering, often using timber which has been treated with toxic chromated copper arsenic.
World Universities Network (WUN)
The WUN fosters collaboration in research and research-led teaching and learning between member universities. Although some funds for the collaboration can be accessed through using the WUN resources, UCT needed some initial funding to be able to 'scope out' possibilities with network partners as an initial step towards fully utilising its membership benefits. The funds will enable research visits to WUN partner campuses and WUN annual meetings.
Merging science, humanities and African intellectual heritage with innovative and sustainable biodiversity exploration for human health
The project seeks real outcomes: new insights into human-plant interactions, potential new medicines or formulations, and a new approach to generating critical dialogue across different ways of understanding health, disease, embodiment, and cures.
URC incentives to increase the impact of UCT's research
Funds have been awarded to strengthen research at UCT for distribution and management through the URC. Grants have been made to enable internationalisation and postdoctoral fellowships, which will recognise the excellence of URC-accredited groupings.
UCT Global Citizen pilot project 2010
This project will address the goals of being an Afropolitan university and enhancing the quality and profile of UCT's graduates. It will increase the breadth of the curriculum and broaden the learning experience so that students can acquire a broad foundational knowledge that goes beyond the immediate requirements of their professional degree or major discipline.
Xhosa Intensive Student Fieldtrips
The two-week trip immerses students in the language and culture of the villagers of Cata, near Keiskammahoek. The students of the African Languages Section of the School of Languages also gain valuable insights into the ways in which people entertain, learn, love and die in communities so different from their own.
---
This work is licensed under a Creative Commons Attribution-NoDerivatives 4.0 International License.
Please view the republishing articles page for more information.
---